Per Mertesacker tells Arsenal to "switch off" from Bayern Munich disappointment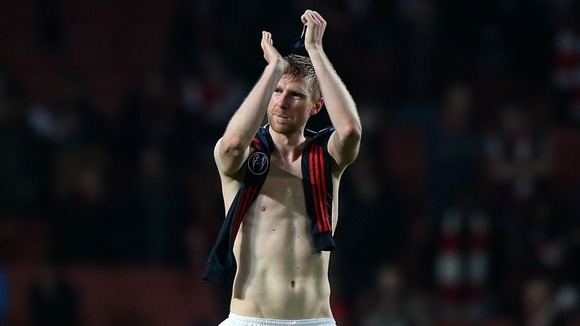 Per Mertesacker has warned Arsenal must "switch off" from the frustration and disappointment of their Champions League defeat to Bayern Munich to avoid losing ground in the domestic title race.
The Gunners lost 2-0 to the reigning European champions at the Emirates Stadium on Wednesday night in a match where club-record signing Mesut Ozil had a tame early penalty saved and goalkeeper Wojciech Szczesny was then sent off for tripping Arjen Robben in the box.
Bayern full-back David Alaba sent the resultant spot-kick against the post but there was to be no great escape for the English side as eventually Bayern's patient build-up was rewarded when Manchester United target Toni Kroos fired home a 20-yard effort and substitute Thomas Muller headed in a late second to all but kill off the tie.
Arsenal must now regroup for Saturday's visit of relegation battlers Sunderland when Arsene Wenger's side will look to keep pace in the race for the Barclays Premier League title.
"We will concentrate on Saturday now, because we are going through a period with a lot of games," German centre-back Mertesacker said.
"We will switch off from the Champions League now, and then switch on again (for the Premier League) on Saturday.
"We need that because we have played a lot of games. Our team has great spirit and will come back from this.
"The next tie against Bayern is not now for a few weeks, so a couple of days before that game we will (think about it).
"Now, we must keep our chins up and to think we have a chance to do again what we have done (in Munich) last year."