Arsene Wenger wants to live to see a statue of Mesut Ozil outside the Emirates Stadium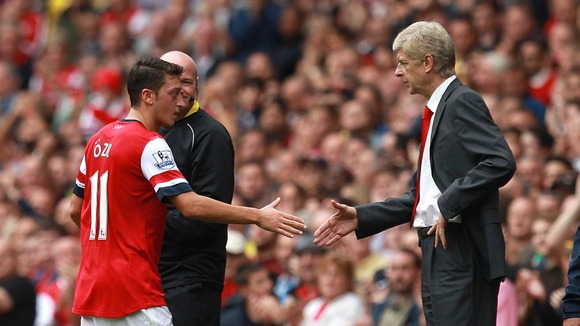 Arsenal manager Arsene Wenger is in no doubt Mesut Ozil's class will eventually tell - and one day perhaps even see him immortalised with a statue outside the Emirates Stadium like Dennis Bergkamp and Thierry Henry.
Ozil made a promising start following his £42.5million signing from Real Madrid at the end of the summer transfer window, but has struggled to make an impact in the last few months.
That frustrating inconsistency was epitomised by a costly penalty miss in the Champions League last-16 first leg tie against Bayern Munich on Wednesday night.
The German playmaker has apologised via Facebook for the tame spot-kick, which was saved by Manuel Neuer after eight minutes of a game the Gunners would go on to lose 2-0 and all but end their European dreams for another season.
Arsenal will unveil a bronze statue of former striker Bergkamp ahead of Saturday's Barclays Premier League fixture against Sunderland.
Much like Ozil, the ex-Holland international needed time to grow into his new surroundings following a then club-record £7.5million move from Inter Milan in June 1995, failing to score in his first seven games.
Wenger is in no doubt Ozil possesses the same elements to develop into an Arsenal great.
"Ozil is a classy player and on a longer period class tells, always," said Wenger.
"I would like to say how pleased I am that Dennis Bergkamp gets his statue, for his class, his contribution to the success of the club, and as well, a forgotten quality in the modern game, for his loyalty.
"That is why I am so happy that he gets one, and I wish that one day Ozil will get one outside the stadium as well and I will still be well enough to come and watch it."