Chelsea manager Jose Mourinho shocks football by refusing to talk about rival Premier League clubs and manager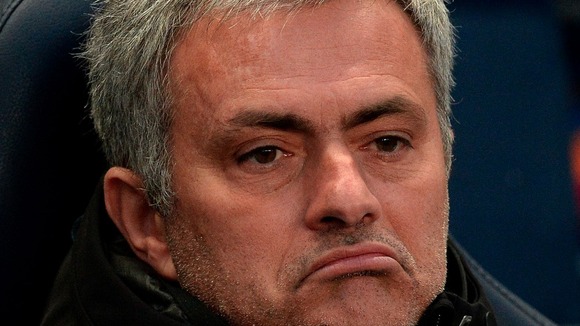 Chelsea boss Jose Mourinho kept his counsel ahead of Saturday's Premier League clash with Everton and refused to talk about Arsenal or Man City.
Mourinho was less than his usual effusive self when questioned prior to Saturday's match with Everton, answering at length only when directly asked about Chelsea, who have John Terry available again but are without David Luiz.
Chelsea enter this weekend's fixtures top of the Premier League by one point from Arsenal and two from Manchester City, who have a game in hand.
Asked about City and Arsenal's European travails, both losing 2-0 in their Champions League last-16 first-leg clashes, Mourinho would only consider his side's tie with Galatasaray.
"My Champions League starts Wednesday," he said.
Asked the potential impact on the Premier League title race of their rivals' defeat, the Portuguese added: "I play Wednesday and I concentrate on that."
On the title race, Mourinho, who maintains Chelsea's approach is only game-by-game, said: "The table is there. You can look at the table and see how the table is.
"We are top of the league but we can be second if Man City wins the match they have in hand.
"If we win tomorrow we keep the same position."
Following his description of Arsene Wenger as "a specialist in failure" last week and the Frenchman's riposte that he was "embarrassed for him (Mourinho)", the Portuguese declined the opportunity to respond in order to avoid a continuation of the tit-for-tat exchange.
Wayne Rooney was a summer transfer target for Mourinho, but now appears poised to commit his future to Manchester United with a contract reportedly worth £300,000 a week.
"I don't react," Mourinho added.