Opinion: Jack Wilshere poised to shine for Arsenal and England this year
by Will Unwin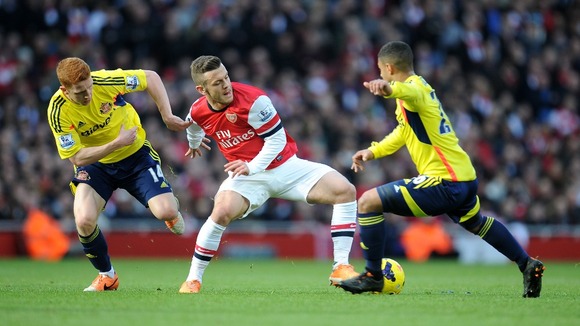 Arsenal midfielder Jack Wilshere is facing the biggest and most exciting five months of his career thus far, with the England international key to any potential success for his club and country.
For Arsene Wenger's men on Saturday against Sunderland, Wilshere was pivotal, operating at the base of a three-man midfield alongside Mikel Arteta, with Tomas Rosicky given the job of supporting Olivier Giroud from central positions.
Within five minutes he had made a darting run into the box, setting up Frenchman Giroud for the Gunners' opener. The change of pace from Wilshere on the edge of the area caught Sunderland by surprise, as the defenders couldn't react quickly enough to stop his charge, allowing him to get the ball to Giroud ten yards out, happily obliging.
Sunderland came to North London with the aim of sitting deep, with ten men behind the ball for the majority of the game, allowing Wilshere et al to conserve energy as they played 'keep ball' in front of the Black Cats' defensively-minded side.
Adept at dribbling, Wilshere can attract a number of opposing players to him when he has the ball at his feet, freeing up space for his team-mates to impact the game, which Roskicy and Santi Cazorla regularly benefitted from.
The selfless team ethic that Wenger enforces means if Wilshere does go forward, someone like Rosicky is more than happy to sit and protect the back four in case the opposition manage to launch a counter-attack – a rarity for Sunderland.
At just 22, Wilshere is still learning about his own game and honing the natural skills he possesses, but he's starting to dictate the pace of games, something usually the job of a more experienced man - Arteta keeps Arsenal ticking, but Wilshere is the man that really gets them going in the first place.
Last month, Wenger complimented his pivotal midfielder, something that will have given Wilshere a confidence boost, he said: "Jack has found his change of pace back and his penetration. His game is about that. He's not only a passer, he's a guy who's incisive with the ball. That's his strength and for that you need to be at the top of your game physically. You can see it when he's training well physically. He's coming back to his best."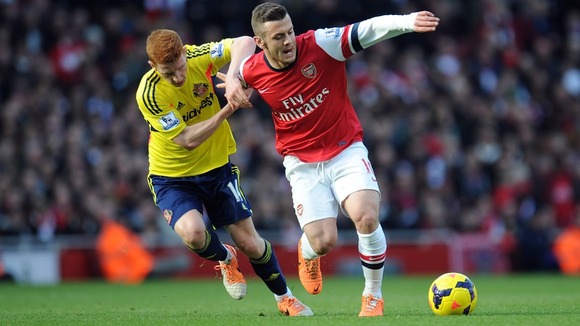 After pulling Sunderland apart in the first-half thanks to two Giroud goals and a superbly worked team effort, resulting in a dink over Vito Mannone from Rosicky, Arsenal were able to conserve energy in the second period. It wasn't all positive for Wilshere on Saturday, as he was slow to react to his side clearing a free-kick, failing to stop Emanuele Giaccherini fire in a consolation goal for the visitors that made it 4-1, after Laurent Koscielny had headed Arsenal's fourth. The main thing which has held back Wilshere since he broke onto the scene is his susceptibility to injuries. Every time he goes down one worries for his immediate health, but this season he has already played 38 appearances for club and country, having only played 35 times in the entirety of last season. Whether he can maintain this level into June in Brazil will be fascinating to see, as he will enter an intense period of games towards the back of the season, with Arsenal chasing the title and FA Cup, but he needs to become accustomed to the rigours of playing for a top club, something the Gunners have fallen short of being in recent campaigns. His role at the World Cup could be incredibly similar to where he plays for Arsenal. For his country he will most likely start with captain Steven Gerrard, whose pace was left behind in Kiev during Euro 2012, meaning it will be Wilshere's job to offer any forward thrust from deep for Roy Hodgson's men. Michael Carrick would be more akin to the Arteta role, but Gerrard is the more experienced international player, so will get the nod. In recent years the Liverpool midfielder has accepted his limits caused by his ageing body, meaning he will be happy to let Wilshere be the man to take the task to the opposition, something that could spell danger for Italy, Uruguay and Costa Rica. Undoubtedly Wilshere will face comparable situations in the upcoming decade with Arsenal and England, but now until the end of the World Cup could be the period that makes the man for the years to come, irrelevant of how much silverware he collects.