Scotland manager Gordon Strachan takes positives from 'exciting' Euro 2016 draw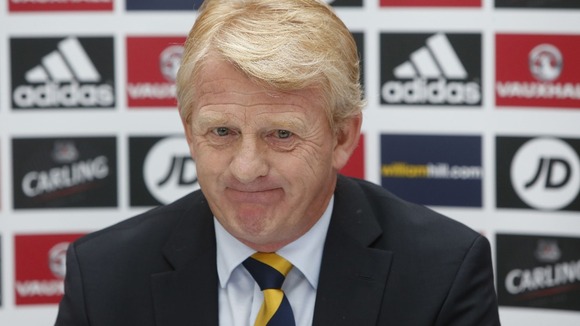 Scotland and the Republic of Ireland will face each other in a Group D battle between two teams led by former Celtic managers, Gordon Strachan and Martin O'Neill.
They join Germany, Poland and Georgia, as well as UEFA's newest member Gibraltar, who were drawn to Group C with Spain but were switched to D for political reasons.
Republic boss O'Neill said: "They will be great occasions I hope. I'm sure he (Strachan) is looking forward to it. I'm sure he'll be as excited as I am myself. It's tough, I'm there's other groups we might have preferred to be in but we'll get on with it.
"Germany you would say are the outstanding side in the group but there's plenty to fight for."
Strachan added: "The commercial manager is happy. Every tie, there's something in it. You've got Gibraltar, new to the competition; Germany, one of the best teams in the world; the Republic of Ireland; Poland, who we play in a friendly - we've just decided to knock that one on the head and the backroom staff are just going to play their backroom staff.
"It is exciting. There's some groups you might call mundane but we're definitely in an exciting group. It's a terrific, terrific draw."
Wales have a shot at a play-off place or better in Group B, where they will face Bosnia-Herzegovina, Belgium, Israel, Cyprus and Andorra.
With 23 places at the finals up for grabs - France go straight in as hosts - prospects of smaller nations going through have raisied the stakes. Two teams will go directly to the finals from each group, and the best third-placed side will join them, with four others advancing from play-offs between the eight other third-placed finishers.
Wales boss Chris Coleman said: "Definitely there's a bit of excitement in there; anticipation. Everybody's wondering what's going to happen.
"Teams like ourselves - Wales, Scotland and Ireland and Northern Ireland - it gives us a little more chance of maybe qualifying and reaching a major tournament. The format that's been before is very difficult for us but with the extra teams, who knows? It's all up for grabs."
Northern Ireland were drawn in Group F with top seeds Greece, Hungary, Romania, Finland and the Faroe Islands in a competitive-looking group.
Manager Michael O'Neill said: "Greece will be a very tough game but it would probably be the country you may have chosen. We have teams in there, the likes of Hungary, Romania and Finland, that I believe we can compete with and take points from.
"We're happy with the draw. We need to maximise our points at home. We're well capable of doing that."