Alan Pardew hit with formal warning and £100,000 fine by Newcastle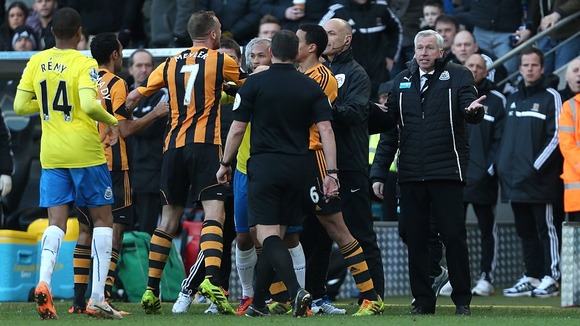 Newcastle have hit manager Alan Pardew with a formal warning and a £100,000 fine after he appeared to headbutt Hull midfielder David Meyler in Saturday's Premier League match at the KC Stadium.
The incident, which came in the 72nd minute as Meyler sought to retrieve the ball from behind Pardew at a throw-in in front of the dugouts, cast a shadow over a match the Magpies went on to win 4-1.
Football Association chairman Greg Dyke has confirmed the organisation will investigate the incident, while Pardew himself conceded he would be "stupid" not to expect the FA to come down hard on him in the coming days.
In a statement released late on Saturday night, Newcastle said: "Newcastle United are disappointed with the actions of its manager Alan Pardew this afternoon. His behaviour was unacceptable and is not the behaviour we expect from the manager of Newcastle United.
"It is most disappointing that this incident has taken the focus away from what was a fantastic performance by the team and an excellent result away from home which leaves the club in eighth place in the Barclays Premier League.
"Sadly, the headlines tomorrow will not be focused on the result or the efforts of the players, but instead on the actions of our manager.
"Alan unreservedly apologised immediately following the game to the player, to Hull City Football cub and its fans, and to the fans of Newcastle United.
"We have held discussions this evening with Alan who has offered his sincere apologies to the club and it is clear he deeply regrets his actions. Alan has accepted a formal warning from the club in relation to his behaviour today and also a club fine of £100,000.
"The club is now drawing a line under this matter and will be making no further comment."