Arsene Wenger reluctant to talk about Arsenal's title hopes after damaging defeat at Stoke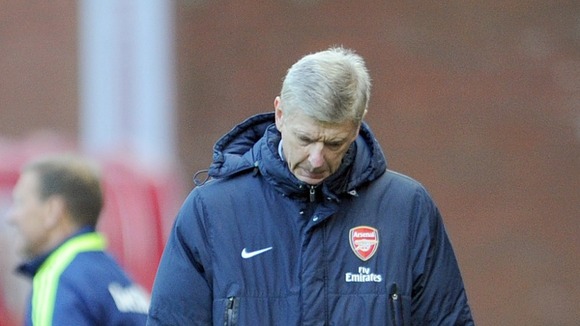 Arsenal manager Arsene Wenger was reluctant to make predictions about his team's Premier League title prospects after their damaging 1-0 defeat at Stoke.
Saturday's top-flight results left the Gunners third in the table, level on points with second-placed Liverpool but considerably behind on goal difference, and four points adrift of leaders Chelsea, with all three having 10 more league matches to go.
Meanwhile, Manchester City, in fourth, are two points worse off than Arsenal and Liverpool and have two games in hand over the top-three sides.
Wenger described the loss at the Britannia Stadium, sealed by Jon Walters' 76th-minute penalty, as "a big worry" and "a massive setback".
But when asked how he assessed Arsenal's title chances overall from here, the Frenchman said: "I don't assess them at all, because I think what we have to focus on is our performance, and play well in our next game."
The rest of March looks absolutely crucial for Arsenal's title hopes, with their league fixtures seeing them take on fifth-placed Tottenham, Chelsea (both away) and then Manchester City at home.
With regard to Saturday's display, Wenger was in no doubt his side had not offered enough offensively, but said the penalty - awarded when Walters' flick struck Laurent Koscielny's arm - was a "nice gift" for Stoke from referee Mike Jones, and was also keen to praise the Gunners' defensive efforts.
"I think our defensive performance was outstanding," Wenger said.
"If you look well at the chances that Stoke had, I can see maybe one cross to (Stoke striker) Peter Crouch, and after that what did they create? Nothing at all.
"So you cannot say that our defenders didn't perform."