Roy Hodgson hopes Liverpool striker Daniel Sturridge will win 100 England caps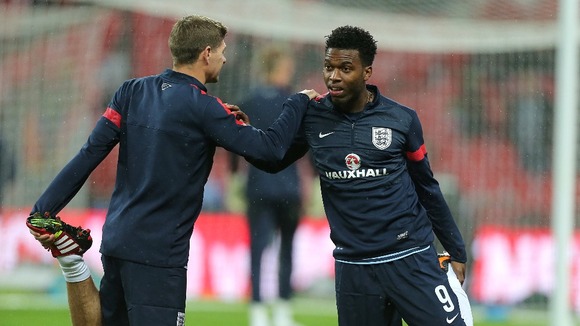 Roy Hodgson hopes Daniel Sturridge will light up the World Cup this summer and finally deliver on the potential that he thinks can earn the Liverpool striker 100 caps.
Ever since Michael Owen's career began to fade, the responsibility of leading England's front line at major tournaments has fallen on the shoulders of Wayne Rooney.
That responsibility has sometimes been a burden on the striker. Other than the 2004 European Championship, Rooney has struggled in major tournaments. The fact he has not scored a goal at a World Cup goes a long way to proving that theory.
But Rooney will have a free-scoring partner to carry some of the load this summer in Daniel Sturridge, who is enjoying the best season of his career at Liverpool.
"He is a great talent," the England manager said. "If he remains fit and able, I'm confident he will produce."
Sturridge's form has been astounding since he left Chelsea for Liverpool.
In 39 matches, he has scored 32 goals - more than he managed during his four-year spell at Stamford Bridge.
But with England, Sturridge has not found the going so easy. The 24-year-old made his debut in 2011 - but he has only gone on to earn nine caps.
Seven of those have come under Hodgson, but there would have been so many more had it not been for injury.
The England manager now hopes the striker's injury troubles are behind him so he can enjoy a long and successful international career.
"He's hardly played for England," Hodgson added.
"Since he's gone to Liverpool, he's done very, very well, but quite often when we've had matches we've been unlucky he's not been available through injury.
"In my 25 games, Daniel hasn't featured anywhere near as often as I would like. Now, I'm hoping, in the next 25, he's going to feature a lot.
"He should be looking at his 50 caps and when he has his 50 look at a hundred because he's got the talent to play up.
"I think that it's exceptional the way he's been playing this year and now it's incumbent upon him really that he does that also in an English shirt."