Spurs manager Tim Sherwood wants to ruin Chelsea, Liverpool and Arsenal's seasons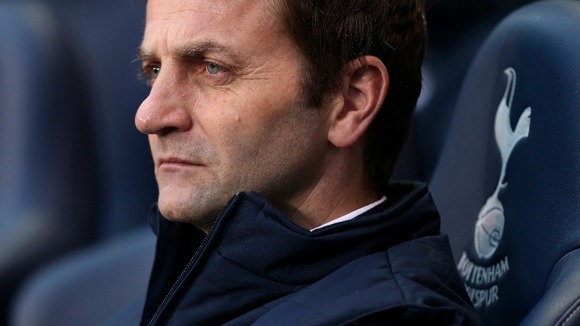 Spurs boss Tim Sherwood hopes his side can ruin as many of their rivals' Champions League qualification dreams as possible.
An unconvincing 1-0 home victory over Cardiff on Sunday consolidated fifth place in the Barclays Premier League for Spurs, with head coach Sherwood acutely aware his side's own top-four aspirations are slipping.
Tottenham trail fourth-placed Manchester City by four points, but the newly-crowned Capital One Cup champions boast two games in hand over their rivals.
Spurs may have to overhaul north London foes Arsenal to squeeze into next season's Champions League, but Sherwood believes it is too early to rule out Everton, and maybe even eighth-placed Newcastle.
Tottenham travel to league leaders Chelsea on Saturday, with Sherwood hoping to load all the pressure on Jose Mourinho's men.
If Spurs cannot crash the Champions League party, Sherwood said they will at least try to spoil the European shindig for a few of their competitors.
"I don't know about Chelsea being more ambitious than us, we're going to the Bridge and that's definitely tough, but sometimes expectancy works against you," said the Tottenham head coach.
"Some of our fans might have been rubbing their hands expecting a few goals against Cardiff, but it doesn't work like that.
"You've got to earn the right for everything.
"Sometimes when the expectation is not with you, it makes it a little bit easier.
"Games against Chelsea at the Bridge, Arsenal at the Emirates and Liverpool at Anfield, perhaps the pressure's off us a little bit and we can cause a surprise.
"We're looking to mess up as many other people's seasons as we can, and enhance ours at the same time."