Arsenal midfielder Alex Oxlade-Chamberlain admits he deserved criticism for Neymar shirt swap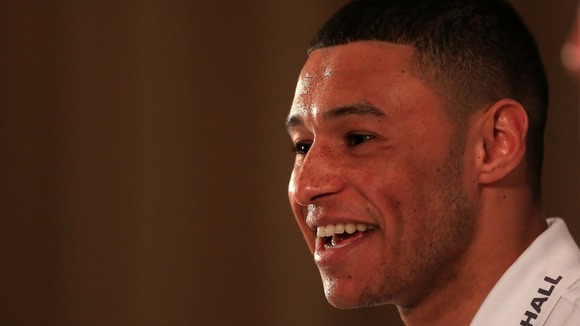 If England play Brazil this summer, there is no way Arsenal midfielder The Ox will ask Neymar for his shirt until full-time.
Oxlade-Chamberlain scored the most memorable goal of his career last June when he fired England level during a landmark friendly in the Maracana.
The winger took home an impressive memento from the 2-2 draw - the shirt of Neymar, who was to make a multi-million pound move to Barcelona later that summer.
Roy Keane, and current Under-21 manager Gareth Southgate, took exception to the way in which Oxlade-Chamberlain procured the shirt during their post-match analysis.
The Arsenal midfielder asked Neymar for his jersey during the match - something which he admits was the wrong decision.
"I did ask him during the game. I gave him a little nudge," Oxlade-Chamberlain said.
"Roy Keane hammered me for it. I didn't try and make it too blatant. It just happened that the camera landed on me right at the time I nudged him.
"I agree with Roy. It's not the way to go about things.
"I have to hold my hands up. You're not in awe of these players.
"I've got massive respect for what he's done in world football."
Despite the controversy surrounding the shirt-swap, the trip to Brazil did prove to be a worthwhile experience for Oxlade-Chamberlain on a number of levels.
Firstly, being able to walk along the Copacabana and play in one of the most iconic stadia in world football gave him that extra motivation to push for a place in Roy Hodgson's World Cup squad.
The Ox scores at the Maracana
And that 20-yard strike past Julio Cesar also provided the 20-year-old with a memory he went back to again and again when he was working his way back from a serious knee injury he suffered on the opening day of the season.
Oxlade-Chamberlain was out of action for five months and to lift his spirits he revisited the goal in his mind many a time.
"Moments like that are nice to look back on when you're going through a tough time like an injury," the former Southampton man said.
"Little reminders can keep you inspired and motivated to give you the best opportunity to get back playing. I've looked back on that moment a few times. The whole experience of Rio whetted my appetite."
Excellent performances against Crystal Palace and Liverpool meant Hodgson had no qualms about recalling the winger, despite such a long period out.
But while Oxlade-Chamberlain has been sidelined, the competition for places on the wings has become much greater.
Andros Townsend scored a stunning goal on his debut against Montenegro, while Raheem Sterling has been one of Liverpool's best performers in an impressive year for the Merseyside club.
But if Oxlade-Chamberlain holds anything against either player then he hides it well.
"I'm delighted for them," the 20-year-old said.
"For me to see fellow young players coming in and making an impact is really good to see.
"I was at Wembley to see Andros playing, watching as a fan, and the way he was playing excited me. To see him go past players as he did spurred me on to get back and compete with him, work with him and play with him.
"I was happy to see them bringing something different to England that we didn't have before, making a positive statement on the squad.
"It's really nice to see so many young English wingers coming through at the moment."