Chelsea manager Mourinho awaits the return of 'king' Drogba to Stamford Bridge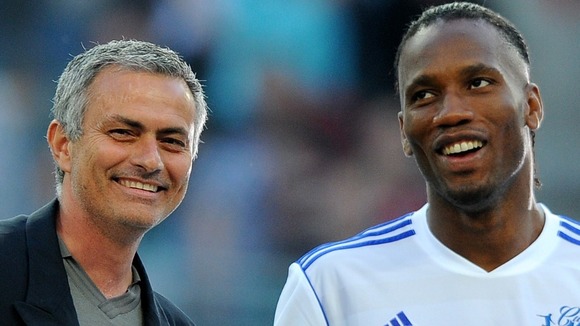 Jose Mourinho expects, for once, to be overshadowed in the hearts and minds of the Chelsea faithful as Stamford Bridge prepares to welcome the return of the man the Portuguese calls 'the King'.
Didier Drogba, whose final act as a Chelsea player was scoring the decisive penalty in the 2012 European Cup win over Bayern Munich, returns to his old stomping ground with Galatasaray for Tuesday's Champions League last-16 second leg.
Prior to the draw in December, Mourinho hoped for Chelsea to be reunited with the Ivory Coast striker, who netted 157 goals in 341 appearances over eight years as a Blue.
Mourinho, who signed Drogba for Chelsea from Marseille in 2004, was given a rousing ovation when he made his first Stamford Bridge appearance in August after a near six-year absence and hopes the Ivorian will experience similar acclaim.
"Bring the King back to Stamford Bridge," Mourinho said in December.
"Didier deserves to come here and to feel the passion and the respect. I would love that."
Drogba, for his part, does not know exactly what to expect, despite exchanging messages with Mourinho, who told him simply to enjoy the experience.
The 35-year-old told uefa.com: "I am quite apprehensive about it. It is a very special moment because I do not know what my reaction will be.
"I think I'm allowed to say that I will receive a warm welcome, because I know Chelsea's fans and our relationship is really special."
Drogba's loyalty cannot be questioned, though.
"I hope that Galatasaray qualify," he said.
There are a number of sub-plots in the tie: Mourinho comes up against his predecessor as Inter Milan boss, the former Manchester City manager Roberto Mancini; and ex-Inter playmaker Wesley Sneijder will play against the man under whom he won the 2010 European Cup.
Drogba is the main protagonist, though, for a contest that is finely poised at 1-1, as Chelsea bid to ensure English representation in the Champions League quarter-finals following the elimination of Arsenal and Manchester City and with Manchester United needing to overturn a 2-0 deficit on Wednesday against Olympiacos.
Chelsea enter the match at the top of the Premier League - a false standing, according to Mourinho, given their rivals have games in-hand - and are taking a game-by-game approach to their season.
Mourinho believes his side are in transition and challenging for honours sooner than expected and that any progress in the Champions League will help the development of his squad.
"It would be fantastic for the evolution of the players and the team, to play a Real Madrid, Barcelona or Bayern," Mourinho said.
"Let's see if we can beat Galatasaray."
Mourinho is unlikely to consider next Saturday's visit of Arsenal in his selection, but his options are limited.
Midfielder Nemanja Matic and forward Mohammed Salah are ineligible in Europe due to their participation for Benfica and Basle earlier in the competition.
David Luiz would ideally slot into Matic's role in deep midfield, but is struggling with a groin problem, while John Obi Mikel has also been a fitness doubt in recent weeks.