Fulham manager Felix Magath has been using a Boris Bike to commute to the club's Motspur Park training ground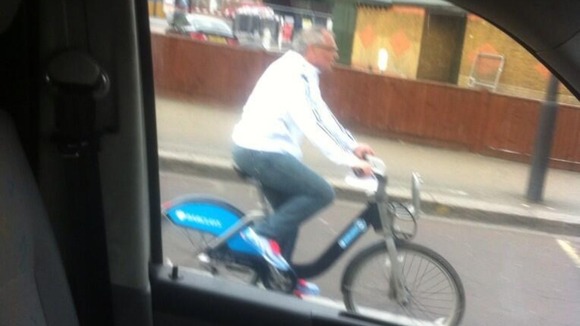 Fulham manager Felix Magath has been using a Boris Bike to commute to the club's Motspur Park training ground.
A photograph of Magath cycling in London wearing a tracksuit top, jeans and trainers - but no helmet - was circulated on social media on Monday.
The German has confirmed it was him, explaining that occasionally he uses the bike rental system to complete the 14-mile round trip to work.
"At the moment I'm without a car and I have to move. From the hotel to here is too far to go, so I take a bicycle," he said.
"I took a bike to here and it was very nice. I prefer sometimes the bike."
Magath was photographed on the Boris Bike two days after masterminding his first victory as Fulham boss in four attempts with a 1-0 win over Newcastle.
The fight for Barclays Premier League survival continues at Manchester City on Saturday and Magath has made a cheeky attempt to lure Edin Dzeko to Craven Cottage.
Dzeko, who has failed to set Eastlands alight since his move to City three years ago, played under Magath at Wolfsburg.
"Edin has a difficult situation because he's not the only striker at Manchester City," Magath said.
"They have a lot of very good players. Perhaps he should come to Fulham. He could score many more goals here than at Man City."
Fulham are four points adrift of safety with eight matches remaining, their victory over Newcastle a first Premier League win since January 14 against Norwich.
Magath insists the Cottagers can return from Manchester with some reward, but refuses to set a points target for survival.
"I don't count points because I have no influence on what the other teams will do. I don't care, I only look at the next game," he said.
"I'm looking to take a point at Man City, so we'll see. We want to win our home games and we did well against Newcastle.
"We're developing step by step and I was very satisfied with the game against Newcastle over 90 minutes because we didn't concede.
"There is always a chance, even in difficult games like Manchester City. Now we know that we must not concede. We can defend very well.
"If we make it difficult for Man City to score, we'll have a chance to score for ourselves. I hope we'll create more chances."