Andre Marriner could be axed from Premier League fixtures after sending off wrong player at Chelsea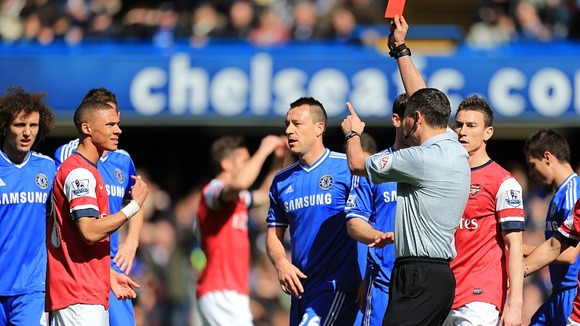 Andre Marriner will find out on Monday if he has been stood down for next weekend's Premier League fixtures for sending off the wrong player in Chelsea's 6-0 win over Arsenal.
Marriner sent off Kieran Gibbs for handling the ball in his own box when it was in fact Alex Oxlade-Chamberlain who was guilty of the offence.
Marriner apologised to the Gunners for the error, which occurred in the 17th minute, when the Premier League leaders were 3-0 up.
Marriner, who refereed last year's FA Cup final, will learn whether he has been dropped for next weekend's games as a result of the error when the Premier League announces its match officials list later on Monday.
Former World Cup referee Clive Thomas called for Marriner to be stood down for the rest of the season, but former official Dermot Gallagher thinks that is the last thing the 43-year-old needs, and would be happy to see him straight back into the action at the next available opportunity.
"I can't see that would do a referee any good. I can't see it would do Andre any good," he told BBC Radio 5 Live's Sportsweek programme.
"You've got one of the leading referees in not only England but in Europe, and you're going to stand him down? That doesn't do the Premier League any good because he is a top top-flight referee - he's made one mistake and his confidence would be shattered if that happened.
"I can't see that would do him any good whatsoever."
On whether Marriner should return to duty straight away, Gallagher said: "I would endorse that. If you are in a position where you're going to stand a referee down for whatever period, whenever he goes back, the focus will be on him. He's made a genuine mistake and that's all it was."
He added: "It's an error that can be corrected off the field for Arsenal later this week.
"Arsenal will appeal that Kieran Gibbs didn't handle the ball, which the DVD quite clearly shows, and his red card will be rescinded and obviously Oxlade-Chamberlain will say he handled the ball and he will be the one suspended (for Tuesday's match against Swansea)."