Defender Per Mertesacker concedes that Arsenal don't perform in early kick-offs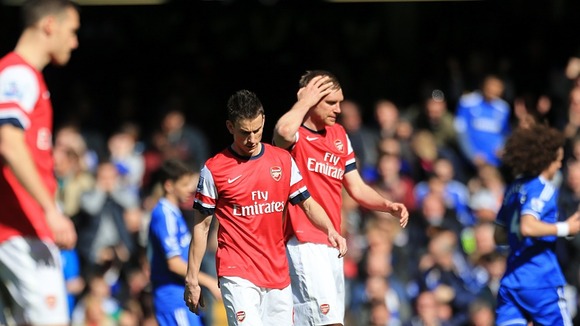 Arsenal defender Per Mertesacker has come up with his own theory about why the Gunners were so poor against Chelsea.
Saturday's 6-0 thrashing followed a worrying pattern, with the 6-3 loss to City and 5-1 hammering at Liverpool also coming in lunchtime matches.
"I don't know why, but it looks like we don't fancy early kick-offs away," Mertesacker said.
"It looks like we are going to have to apply to the FA to not play at 12.45 away. That would help us a lot."
Wenger's 1,000th match could hardly have got off to a worse start as Chelsea scored twice in the opening eight minutes through Samuel Eto'o and Andre Schurrle.
There was controversy when Kieran Gibbs was sent off for a handball committed by Alex Oxlade-Chamberlain in the 17th minute, but there was no doubt it was a penalty and Eden Hazard put Chelsea 3-0 up from the spot before an Oscar brace and Mohamed Salah's first Chelsea goal completed the rout.
Referee Andre Marriner has apologised for sending off Gibbs in error, with the suspension now likely to be moved onto Oxlade-Chamberlain, who admitted his guilt to the referee at the time but was waved away.
Arsenal could nevertheless appeal against any sanction against Oxlade-Chamberlain as it looked as if Hazard's shot was actually going just wide, so the offence was not technically preventing a clear goalscoring opportunity.
Wenger said: "You would not like to see Gibbs suspended because he has done nothing.
"The first injustice would be that he had been sent off and then on top of that he would be suspended, (so) of course that would be wrong."