Cellino reacts to failed Leeds United takeover: I'm not a dishonest crook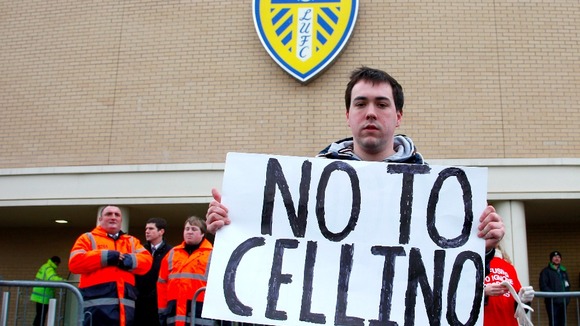 Leeds' owners insist they will try to work out a solution to Massimo Cellino's failed takeover of the club, but the Italian himself claimed on Monday night to be ready to "jump from the window".
Cellino was on Monday told by the Football League that last week's conviction in an Italian court for tax evasion meant he failed its owners' and directors' test, meaning his 75 per cent purchase of the club from Gulf Finance House Capital - in the offing for close to two months - was dead.
The 57-year-old agricultural entrepreneur can appeal the decision and there were mixed messages about that on Monday, but it appears that GFH Capital remains committed to working out a deal for Cellino's Eleonora Sport company to move in at Elland Road.
A statement from them read: ''The club and its shareholders are disappointed at the decision of the Football League not to approve Massimo Cellino as a director of Leeds United FC.
''However, the board and executive management of the club will continue discussions with the Football League and Eleonora Sport to find a solution that is suitable to all parties."
Cellino told BBC Leeds on Monday that he "has to appeal" but used another interview with the Guardian to express his sadness and shame at his conviction, brought about by the non-payment of tax on his yacht.
"I'm not a dishonest man. If they say I did this, I am stupid. Why would I do something like this? Because I am a fool - I am stupid," he said.
"There's different justice in Italy. I prefer the English way, but I am in Italy unfortunately. I pay millions and millions at clubs and they [the courts] say I tried to screw them over for a small amount. It's stupid. I could pay that tomorrow.
"I am not a dishonest crook. If I made a mistake, it was not on purpose. I'm shocked, I'm very shocked. I feel like I will disappear. I am so ashamed of myself - you have no idea. It's not about the money at the moment.
"I didn't try and do anything bad to Leeds, to anyone - I just wanted to do something good. I'm so shocked that I feel like I will jump from the window right now. I feel so ashamed. Why did they take two months to wait for the decision of the Italian court? I could have delayed the trial for one or two years if I had wanted."
The Football League issued a statement earlier on Monday announcing Cellino's conviction last week for a tax offence in Italy constituted ''a disqualifying condition under its owners' and directors' test''.
Cellino, who owns Italian club Cagliari, has bankrolled Leeds for the last two months and fans fear the club could slide into administration if a new owner is not found soon and the agricultural entrepreneur wants his money back.
Leeds managing director David Haigh has insisted, however, that there is ''no chance'' of the club going into administration.