Criticism of Man United manager David Moyes "way over the top" claims Paul Lambert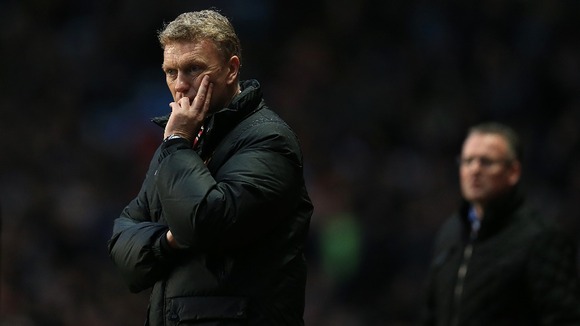 Aston Villa boss Paul Lambert is confident Man United boss David Moyes will not be losing his job any time soon and has expressed his sympathy for his fellow Scot.
There was yet another major low for United in their hugely disappointing first season under Moyes on Tuesday night when they were brushed aside 3-0 by derby rivals Manchester City at Old Trafford in the Barclays Premier League.
Ahead of Saturday's top-flight clash with Villa at the same venue, the Red Devils - the reigning champions - are seventh in the table.
And a group of United fans are reportedly trying to raise the money for a plane carrying a banner calling for Moyes' sacking to fly over the ground during the lunchtime contest.
Speaking on Thursday at his pre-match press conference, Lambert branded some of the criticism Moyes has endured as "way over the top", adding that he felt the plane and banner idea was "a bit extreme".
And asked if he thinks Moyes will keep his job, Lambert said: "I would certainly think so.
"I don't think Manchester United as a football club and an organisation will be panicked into doing anything.
"I think the furore is outside the football club. I would fully expect him to be at Manchester United for a while."
Regarding the talk of the plane and banner, Lambert said: "If it was myself, it would not be nice to see.
"He is trying his best for Manchester United, the way I am for Aston Villa.
"It comes with the territory - in the modern game, you are always one bad result away from being absolutely criticised.
"In years gone by you probably would have got a lot of time, but now the success people want is instant.
"But if you are talking about flying an aeroplane over the stadium with a message to say you are not wanted, it is a bit extreme.
"I think some of the criticism is way over the top, I really do.