Spurs boss Sherwood questions Liverpool bottle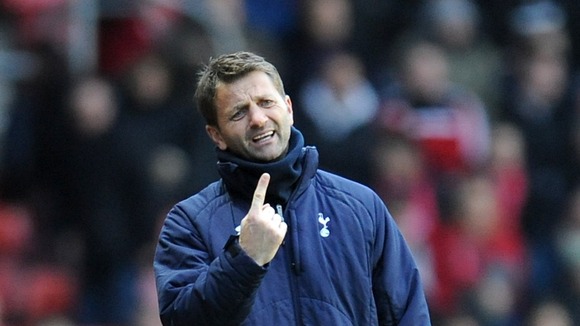 Liverpool are tantalisingly close to a first league title since 1990 but Tottenham boss Tim Sherwood has questioned whether they have the mental stamina to finish the job.
This has been quite the campaign for Brendan Rodgers' side, with just one point separating them and leaders Chelsea as the season enters the home straight.
The Reds will look to maintain their charge with an eighth successive win on Sunday when they host Spurs, whose manager knows all about what it takes to win the Premier League.
Sherwood captained Blackburn to the 1995 title, when Kenny Dalglish's side limped over the line after struggling to cope with the expectation - something he has warned could derail Liverpool.
"I think they have a real chance," the Spurs boss said. "It all depends on how they can hold their nerve, how many players they've got within their squad who have done it previously.
"Obviously Man City and Chelsea would have to be favourites because of the players they've got who have actually crossed that line and done it previously.
"But Liverpool have got from seventh last year and now they must be believing, with eight or nine games left, that they can actually win this Premier League title."
Sherwood celebrated the title with Blackburn at Anfield, despite losing their season finale there to Liverpool in May 1995.
The former midfielder has fond memories of the stadium, which he said was the "home of football" back then.
Sherwood joked leaving with a 3-0 defeat used to be a decent result for visiting sides, but Spurs do not go there with anything like that approach this weekend.
"We don't want to lose by three or five, we want to go there and win," he said.
"The pressure is on Liverpool and you sensed it a little bit the other night, when Sunderland got back in the game.
"After winning so many titles in their time they're very close, one point off the top.
"They're absolutely flying, they've got a strike partnership who are the best the Premier League has seen for a very long time, and they've given themselves a real chance.
"Now they have to believe that they've got something there that might fall through their grasp and might slip away.
"Believe me that's a really bad feeling to have, because perhaps you don't play with the freedom that you normally played with earlier on in the season."