Champions League preview: Borussia Dortmund v Real Madrid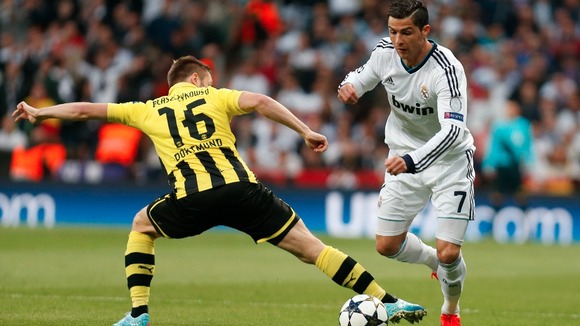 Much has changed since Robert Lewandowski became the first player to score four goals in a Champions League semi-final last season as his Borussia Dortmund side prepare once again to face Real Madrid on Wednesday night.
Even the then Real coach Jose Mourinho had Dortmund down as favourites for a tie they won 4-3 on aggregate to set up a Wembley final with Bundesliga rivals Bayern Munich.
Lewandowski's goals in a 4-1 win at the Westfalenstadion put one Dortmund foot in the door of the final, but with the Poland striker suspended for Wednesday's quarter-final first leg at the Santiago Bernabeu, the boot seems to be on the other foot this time around.
"Given our budget and the injuries we've got, there's no doubt we're the underdogs," said Dortmund coach Jurgen Klopp to Spanish sports daily Marca. "Real have added some class players in (Gareth) Bale and Isco."
In addition to being without the suspended Lewandowski, who returns for the second leg at the Westfalenstadion next week, Dortmund are also deprived of Ilkay Gundogan, Neven Subotic, Jakub Blaszczykowski, Sven Bender and Marcel Schmelzer, but they are not grumbling.
"It's one of our strengths that we don't complain so much about it," said captain Sebastian Kehl to Kicker magazine.
"Of course it's an extreme situation we are in, but we've coped extremely well with it so far."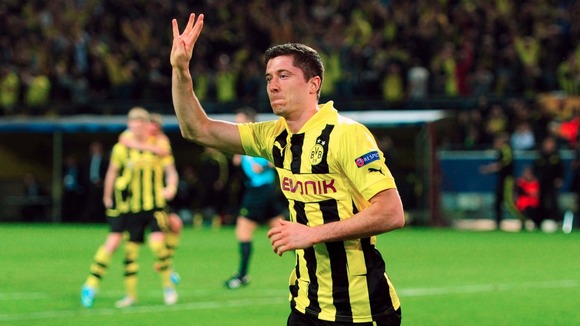 It is a situation Real are quite happy coping with too and their coach Carlo Ancelotti, whose Paris St Germain side fell at this stage of last season's competition, is keen to seize this opportunity.
"Robert Lewandowski is a big loss for them," the Italian said at a press conference in Madrid. "But they have Pierre-Emerick Aubameyang, who can take advantage of Lewandowski's absence.
"He's a great player and I remember him well from last year when he was at St Etienne."
Ancelotti can also remember last season's semi-final tie between the two sides, a game which delivered a result which surprised him, but which just showed how open the Champions League can be.
"They were strange matches," he said. "In the first leg, I felt Real controlled the game well in the first half, but what happened in the second half was incredible.
"Things like that can happen in the Champions League so we've got to be warned."
Real, who are still searching for their historic 10th European Cup title - the Decima - will be without the injured Marcelo, who will be replaced by Fabioa Coentrao.
The three-pronged attack of Cristiano Ronaldo, Gareth Bale and Karim Benzema which saw off Dortmund's local rivals Schalke in the last round should lead the Spaniards' search for a second-straight elimination of Westphalian opponents.