Tottenham chairman keen to avoid another "major upheaval"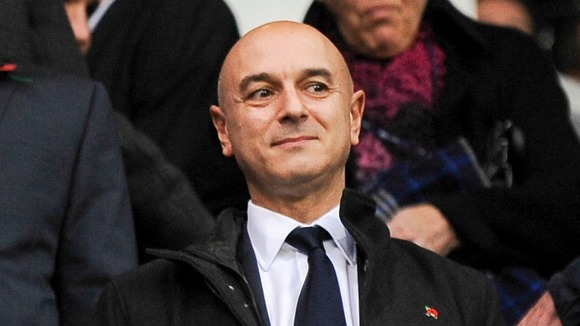 Daniel Levy is planning major changes off the field but not on it, with the Tottenham chairman keen to avoid another "summer of major upheaval" as the club look to leave White Hart Lane for a new stadium in 2017.
Despite the departure of talisman Gareth Bale, a flurry of big-money signings meant there was an air of excitement around Spurs heading into the season.
However, few of those acquisitions hit the ground running and poor performances led to Andre Villas-Boas' sacking in December.
Successor Tim Sherwood has not fared much better and Holland manager Louis van Gaal has been widely tipped to come in this summer after a season in which Levy admits the team "have not lived up to expectation".
The plan for the summer is to recruit players in "key positions" but avoid wholesale change in the squad.
"We have come far in the last decade - we have raised our expectations from a club aiming to be in the top half of the table, to competing in Europe each season - to the point at which we find ourselves disappointed if we don't make Champions League," the Spurs chairman said on Wednesday.
"This season we have had to make significant changes, both in respect of coaching and playing staff and yet we are currently only two points less than last season's tally.
"Whilst this season's performances and results have not lived up to expectation, we believe our squad has potential and it is important that we all now show commitment and teamwork to get the best possible finish to the season.
"We have fantastic, strong support. Our current 36,000-seater stadium sells out and the waiting list for season ticket holders is currently in excess of 47,000.
"We cannot stress strongly enough how critical the new stadium is over the long term to these raised expectations.
"We have the smallest capacity stadium of any club in the top 20 clubs in Europe, let alone the current top four Premier League clubs, and given we now operate within UEFA Financial Fair Play rules, an increased capacity stadium and associated revenues is fundamental to supporting the future ambitions and consistent achievement at the top of the game.
"Our focus therefore is to continue to invest in and develop the squad - we shall not look to a summer of major upheaval, but rather to strengthen in key positions - to play the style of football for which we are famous - and to deliver the new stadium."
Levy's comments came as Spurs announced their financial results for the year ending June 30, 2013, which saw the club announce a profit after tax and interest of £1.5million, having made a £4.3million loss in 2012.
Revenue was up £3.2million to £147.4million - a figure that would rise markedly if Tottenham's new stadium gets the go-ahead.
The club announced phase one of the Northumberland Development Project has been financed to completion, but the next stage of the stadium process depends on the outcome of the public inquiry held last April.
That has delayed the acquisition of the remaining property needed for the land to build the stadium and the club are waiting for a decision from Eric Pickles, the secretary of state for communities and local government, on the compulsory purchase order.
In a statement, Tottenham said: "It is a major development that will present ongoing challenges and, subject to these challenges being manageable, we anticipate going out to tender for construction late this year which will make a stadium opening date of summer 2017 feasible."
Meanwhile, centre-back Younes Kaboul has rejected talk he could swap Tottenham for Arsenal this summer.
A report on Wednesday suggested the French defender was ready to follow in the footsteps of Sol Campbell in leaving for the red half of north London.
However, Kaboul moved quickly ruled out that prospect on Twitter, posting via his account, @YounsKabs4: "I can confirm 100% that the rumour about me joining Arsenal is not true!!! #coys"