Chelsea boss Jose Mourinho facing up to PSG challenge with a smile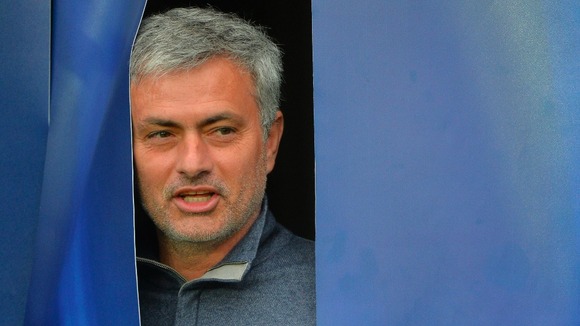 Jose Mourinho immediately turned his attentions from the Premier League to the Champions League and Tuesday's tie with Paris St Germain after Saturday's defeat of Stoke.
Chelsea stayed in contention at the top of the standings with a 3-0 win over Stoke, after which Mourinho bemoaned the fact teams in title contention and relegation danger have not played an equal number of games.
Chelsea's domestic ambitions are now on hold as Mourinho's men bid to overturn a 3-1 quarter-final first-leg deficit at Stamford Bridge on Tuesday night (live on ITV and ITV.com) and reach the semi-finals for the seventh time in 11 seasons.
"A third defeat would be very bad for our confidence in relation to Tuesday's match," said Mourinho, whose side responded from the losses at Crystal Palace and the Parc des Princes to beat the Potters.
"It was important to win, to have again a smile on the players' faces and to get more confidence.
"Now we can approach the match against Paris with a smile. It's what we need for such a difficult match and such an almost impossible job to do.
"I think the best way to try to do it is to have a smile and go at them."
Against PSG, Chelsea are bidding to replicate the last-16 come-from-behind win over Napoli en route to winning the 2012 European Cup.
Mourinho added: "I want to enjoy that game. I enjoy the difficulty.
"Now we know that we need to win 2-0, 3-1, 4-1, 5-2. We know that we need a crazy result against Paris.
"We must be ready to go without fear, go at them and no problems and see what happens.
"If we have to lose to lose after a magnificent night of football, a magnificent night of emotion, if we have to lose."
Mourinho's striker travails mean he is reliant on a strong defensive display against PSG, who are without their talisman Zlatan Ibrahimovic due to a thigh injury.
Chelsea's established back five of goalkeeper Petr Cech, Branislav Ivanovic, Gary Cahill, John Terry and Cesar Azpilicueta have started the last 10 games, while the Blues have kept clean sheets in all of their last eight home matches.
"If you concede one goal against Paris or a clean sheet we have a chance," Mourinho said.
"If we concede two goals and we have to score five, we can't do the job. It's important to defend well against Paris.
"A clean sheet would be perfect, but even if we concede one goal we will have always a chance to give them a fight."
Eden Hazard scored a vital away goal in Paris last Wednesday and came off the substitutes' bench to find Mohamed Salah in a move which resulted in a penalty and provided a spark for the Blues.
Hazard's performances will be key in the closing weeks of the season and next in the Premier League Chelsea visit Swansea, the scene of the Belgian's infamous altercation with a ball-boy last term.
With Manchester City two points behind with two games in-hand and not catching up Chelsea in terms of fixtures played until the final week of the season, Mourinho knows his team cannot control their destiny.
"The only thing we can do is try to win our matches and see the way it finishes," Mourinho said.