Adebayor backs Sherwood for Spurs job: I would hope he stays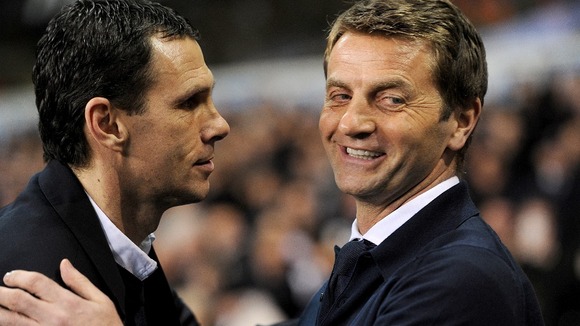 Tottenham striker Emmanuel Adebayor said he hoped Tim Sherwood would stay on as manager amid speculation over his future.
Sherwood saw his side thrash Sunderland 5-1 at White Hart Lane on Monday night on a day a report claimed he would be replaced in the summer regardless of results.
The boss himself has declined to comment on his future, but Adebayor, who was on target twice and has been a resurgent figure since Sherwood took over, backed him.
"I am playing and scoring goals, I would hope he stays. But I am not the chairman or the owner of the club. No matter what happens I am a professional footballer and just want to do my job for the club," Adebayor told Sky Sports.
"When everyone forgot about me he gave me back my life. I am very grateful and I owe a big thanks to him."
Man of the match Christian Eriksen added: "We try to be professional and just play football."
The win ended a poor run of form for Tottenham, while increasing Sunderland's relegation fears.
"As a team we are going through a difficult moment, but we just have to keep fighting for the club," Adebayor added. "Today we have done a very good job for the team, for the manager, for the fans."
Sherwood was unwilling to talk about his future after the match, but did say Champions League qualification had not been a requirement when he took the job from Andre Villas-Boas.
He said: "I would rather talk about the game. I can't comment on anything about my employment, you have to ask my employers about that.
"We've just to get on with it. All I was focused on was winning the game tonight and preparing the boys correctly. It's been an opportunity to manage this great club and I'm relishing it.
"My record's been very good, in the Premier League I think it's second to none. Any manager who had been here, I think my win percentage is higher than any of them.
"There was never any pressure, any talk about, 'You have to finish in the Champions League (places)'. Basically it was, 'Go out and do your best'.
"I am doing my best every game to get this team high up the league and I will continue to do that until the end."
Sunderland boss Guy Poyet admitted his side, bottom of the table, now needed "a miracle probably" to stay up.
"It's very hard to take, it's not nice," he said.
"I imagine how hard it is for the fans, but there is no place to hide. I am responsible because I am in charge, and I accept full responsibility."