Carrick: Man United will be back in Champions League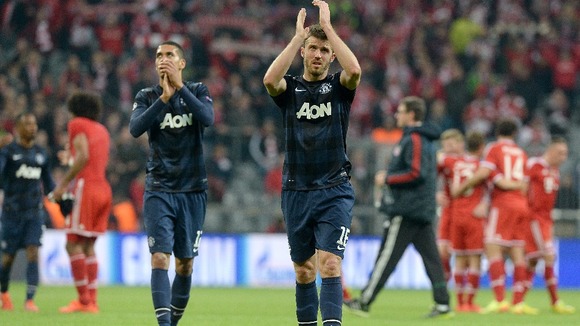 Michael Carrick promised Manchester United would make a swift return to the Champions League after defeat to Bayern Munich in Germany all but confirmed they would miss the competition for the first time since the 1995-96 season next year.
United defended well for an almost an hour, but just 22 seconds after Patrice Evra's thunderbolt gave them a surprise lead Bayern scored the first of three goals that wrapped up a 4-2 aggregate win.
With the odds well against United claiming fourth in the Barclays Premier League, they look set to face a wait before playing on Europe's biggest stage again.
"Obviously it's not good enough," Carrick told Sky Sports 1. "We've said that over the last few weeks. It's not good enough because this club should be in the Champions League. It was always going to be tough tonight, but the reason we're not in the Champions League is not because of tonight, it's our league form over the season and we take responsibility for that.
"It's been over a time period we've had too many bad results and ultimately we pay for it. I don't think there'll be a knock-on effect. We'll pick ourselves up as well as we can and come back next season believing we can challenge for the title again.
"This is where we want to be. This is where we've been for a long time and we'll be back here in the not too distant future."
United were weathering the storm well and started the second half the stronger, but although a stunning strike from Evra briefly silenced the Bayern fans, United were caught cold - with Evra at fault - as Bayern levelled almost immediately to completely change the dynamic of the game.
"We're really disappointed because we put ourself in a great position, but it's 20-odd seconds I think (before they equalise)," Carrick said.
"That's a big blow for us. We were still in and we had a great chance when Danny (Welbeck) laid it off to Wayne (Rooney), I don't know if it bobbled up or what, but it was a big one for us.
"We defended so well for long periods. At times all it takes is something to drop for them and in the end it did."