Government to campaign for better access and facilities for disabled football fans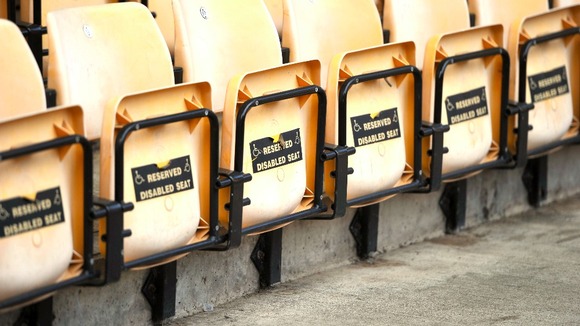 The Government is putting more pressure on football clubs to make their grounds user-friendly for disabled fans after a report discovered several were failing to cater for less able-bodied supporters.
Minister for disabled people, Mike Penning MP, said he would look to prosecute clubs that failed to meet criteria designed to welcome supporters.
A BBC report last month revealed that just three Premier League stadiums - Swansea's Liberty Stadium, St Mary's in Southampton, and the Cardiff City Stadium - provide the required number of wheelchair spaces.
Fulham's Craven Cottage has the fewest wheelchair spaces provided as a percentage of Accessible Stadia Guide recommendations, the BBC investigation found.
Tory MP for Hemel Hempstead Mr Penning said the report "named and shamed" poorly performing clubs and he had written to all Football League teams to remind them of their responsibilities.
Speaking on the BBC's Breakfast programme today, the Tottenham fan said: "Enough is enough. I'm a football fan and my club, Spurs, is right at the bottom of this league table (on disability provision).
"There's so much money in the Football League, why can't (disabled) fans go and see their games the same way you and I can?
"What I've said is 'sort your act out'. Sadly if you don't, the legislation is there for me to take prosecutions if I need to."
The Accessible Stadia Guide is a "good practice guide" for sporting facilities to meet the needs of disabled spectators and other users.
It sets out minimum standards all new grounds have to meet in the provision, location and quality of facilities for disabled fans.
Since the implementation of the Equality Act in 2010, and legislation dating back to 1995, it has been illegal for service providers, including football clubs, to treat disabled people less favourably than other customers.
Mr Penning said he has also written to the Football Association chairman, former BBC director-general Greg Dyke, and described the situation.
The MP said: "It's not just about wheelchair access. You can get wheelchair access in but if you just plant them around the edge of the game, they don't feel part of the game, they don't feel part of the atmosphere.
"I want to build on the legacy from the Paralympics and football clubs need to use a piece of their loose change."