Liverpool captain Steven Gerrard admits Man City victory was "longest 90 minutes" of his career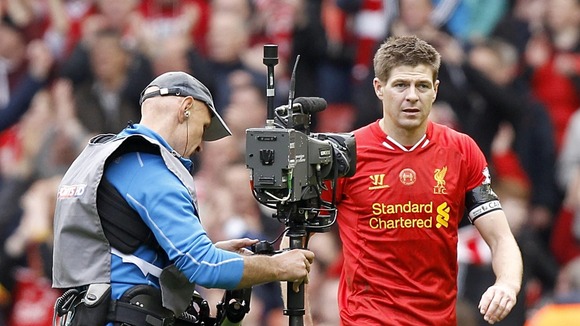 Liverpool captain Steven Gerrard admitted Sunday's 3-2 victory over Man City was "the longest 90 minutes" of his life as the Reds claimed the scalp of their biggest rivals in the race for the Barclays Premier League title.
On a poignant day for the club, marking 25 years since the Hillsborough tragedy, Brendan Rodgers' men raced into the lead with goals from Raheem Sterling and Martin Skrtel, but City clawed their way back after the interval thanks to David Silva and a Glen Johnson own goal.
However, Phillippe Coutinho's strike 12 minutes from time proved decisive as Liverpool moved five points clear at the top of the table ahead of Chelsea's match with Swansea.
Gerrard is aware of the importance of the win, but warned the title is not within their grasp yet and feels next Sunday's fixture at Norwich is now key to their hopes.
"That win means so much," he told Sky Sports 1. "They got back into the game but I think we showed today that we want to go to the wire. We want to go all the way.
"That's the longest 90 minutes I've probably ever played in. It felt like the clock was going backwards in some parts of that game.
"But that is such a big result for us. We've got four cup finals left. People said that was the biggest one (match) but I disagree - I think the biggest one now is Norwich.
"Nothing is ours yet. The important thing now is not to get carried away with that result. We need to stay calm and prepare for Norwich. The scenes are great today and the fans are very happy, but we have a day off tomorrow and then we go for Norwich."