Crystal Palace boss Tony Pulis not bothered by Manager of the Year award talk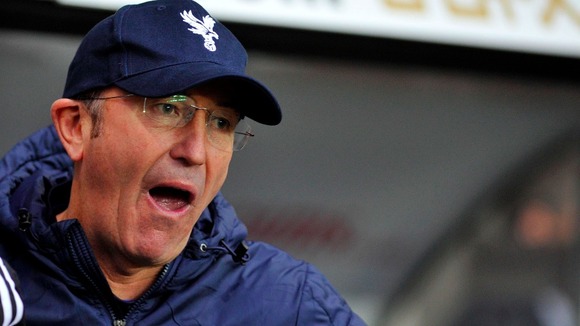 Tony Pulis is amongst the favourites for the Manager of the Year award, although such recognition is not overly-important to the Crystal Palace manager.
The Welshman has overseen a remarkable transformation since coming in as Ian Holloway's successor in November.
Palace had just seven points to their name and looked relegation certainties yet now, five months on, they are within reach of a top-10 finish.
Wednesday's 3-2 shock win at Everton moved them to 40 points and almost certain safety, leading to growing calls for Pulis to be named Manager of the Year.
"That's for other people to decide," the Palace boss said when asked about it. "It doesn't make any difference [to me].
"Accolades come and go - I think the most important thing is that you enjoy your job, that you take and glean what you need to out of the job you are doing.
"I enjoy being a manager, I enjoy coaching. I don't like being in rooms, I'd rather be out there on the training field.
"I think if I could do that every day for the next 10 to 15 years, I'd be absolutely delighted. I won't but I would enjoy it."
Despite that success, however, Pulis cannot escape the background noise of controversy after Cardiff claimed details of their team to face Palace on April 5 were leaked to officials at the south London club.
The Bluebirds have lodged an official complaint with the Premier League and Press Association Sport understands that they have requested that the result of the match - which finished 3-0 to Palace - be overturned.
While Pulis was keen to avoid the subject at Palace's press conference ahead of Saturday's match with West Ham, he was quick to downplay talk that the allegations have overshadowed their success.
"No, not at all," he said. "I think obviously Cardiff and whatever they've got to do... it has been disappointing that they have been dropping stuff out to the press.
"If we have to go up and meet the Premier League or whoever it is that we have to meet, then we'll do it in the right and proper manner. We won't do it any other way and I think that is important.
"As a manager and as a coach, I log every session that I do and I'll be taking those sessions up to the Premier League to show that I picked my team on Monday before we played Cardiff on the Saturday.
"That team was worked with for a week and there were no changes in it whatsoever."
Pulis will no doubt be pleased that attention will return to on-field issues on Saturday when Palace make the short trip to east London to take on a West Ham side three points and a place worse off than his side.
"We know it is going to be a tough game," he added. "I've got tremendous respect for Sam and for West Ham United Football Club, a fabulous football club with great tradition.
"I love going to Upton Park. The fans are very, very close to the pitch, there is always a great atmosphere there so it is a tough game for us."