Three Liverpool players on PFA Player of the Year shortlist: Gerrard, Suarez and Sturridge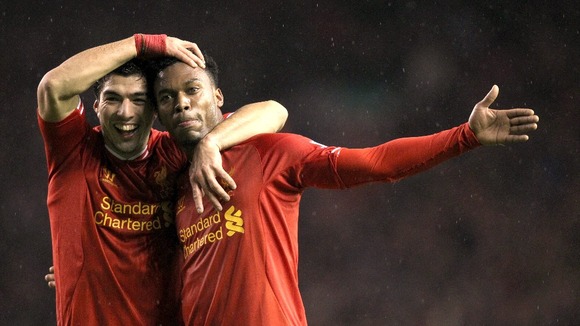 The PFA Player of the Year shortlist has been announced, with three Liverpool players up for the prestigious award.
Luis Suarez heads the Premier League scoring charts with Liverpool at the top of the table. The Uruguayan is joined by Reds strike partner Daniel Sturridge and captain Steven Gerrard on the six-man list which was announced by the PFA today.
Also nominated for the top prize are Chelsea star Eden Hazard, Manchester City colossus Yaya Toure and Southampton playmaker Adam Lallana.
Suarez is the firm favourite to land the award after a stellar season in which he has already scored 29 league goals.
The shortlist:
Steven Gerrard (Liverpool)
Luis Suarez (Liverpool)
Eden Hazard (Chelsea)
Yaya Toure (Man City)
Daniel Sturridge (Liverpool)
Adam Lallana (Southampton)