Arsenal manager Arsene Wenger praises Olivier Giroud's mental strength and challenges him to score more headers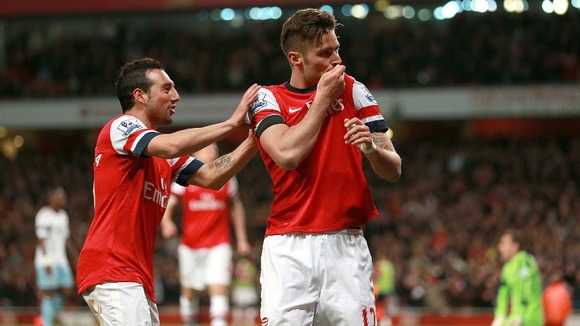 Arsenal manager Arsene Wenger has praised Olivier Giroud for his mental strength, but believes the striker should score more headers.
Giroud took his tally to the season to 20 goals with a superb strike in the 3-1 win over West Ham on Tuesday night, when he held off two players to collect a high ball with one deadly touch on his left foot and then slotted between the goalkeeper's legs with his right.
Details of Giroud's personal life were reported by the media earlier this season, but his compatriot Wenger has been impressed by how he has managed to get his focus back on football.
"It was a bit physical and mental as well with what happened to him, but Olivier is a strong lad with a strong mentality and he is a strong, positive guy," said Wenger, whose side travel to East Yorkshire on Sunday for an FA Cup final dress rehearsal against Hull looking to consolidate their place in the Barclays Premier League's top four.
"He has a great mentality which is what I think got him back (on form).
"He has scored 20 goals - that is a great record and he is working very hard for the team.
"The quality of the goal (against West Ham) gives him confidence again, and it gives him credibility again for people who questioned his ability, so that is important," said Wenger.
"He has improved his finishing, but there is still some room for improvement, for example you expect him to score more headers."
The 27-year-old has made 46 appearances this season, including 32 starts in the Premier League, as he shoulders the burden of Arsenal's attack.
Wenger continued: "Up front it is difficult because every challenge he goes into is physical.
"Olivier is not a guy who moves away from people to get the ball, he is a guy who fights with people to get the ball.
"When he comes out of the game he has 50 fights behind him. That is more demanding than the guy who just runs away."