Newcastle fans planning 69th minute walk out protest against Cardiff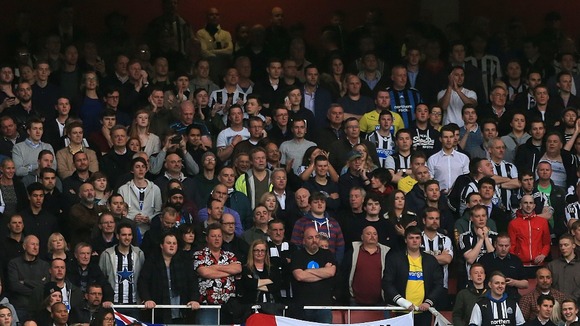 Newcastle fans are planning to leave St James' Park after 69 minutes against Cardiff on Saturday in protest at owner Mike Ashley, according to the Newcastle Chronicle.
Members of Newcastle United's Supporters' Trust hope the 69th minute protest will spark a mass exodus, symbolising the last time they won a trophy in 1969.
A statement released by the Supporters' Trust read:
"As fans we have deep concerns at the direction Newcastle United is heading in, both on and off the pitch.
"The vast majority of supporters are angry and frustrated but are divided as to what, if anything, can be done to positively influence Mike Ashley and those who run the football club on his behalf.
"Some fans are prepared to hand in their season tickets – indeed many already have – and not return until they believe Newcastle United is once again heading in the right direction.
"On the other hand, many supporters can't see any circumstances under which they would or could stop supporting the team at St James' Park.
"The most important thing at this time is that the fanbase stays united, all supporters have to respect each other and their own personal choice as to whether to attend matches.
"However, this Saturday presents the perfect opportunity to send a clear message to Mike Ashley that fans, whether they are going to renew their season tickets or not, are united in their concerns for the direction the owner is taking the club in.
"Sweeping changes need to be made or else Newcastle United is in grave danger of relegation in the near future, and what should be a great club, brought to its knees.
"It is 1969 when Newcastle United last won trophy and we are asking all fans to consider joining us by walking out of St James' Park when the clock hits 69 minutes on Saturday, and miss the last 21 minutes of our final home match of the season against Cardiff City."