Stoke have entered tentative talks with Liverpool over the permanent signing of winger Oussama Assaidi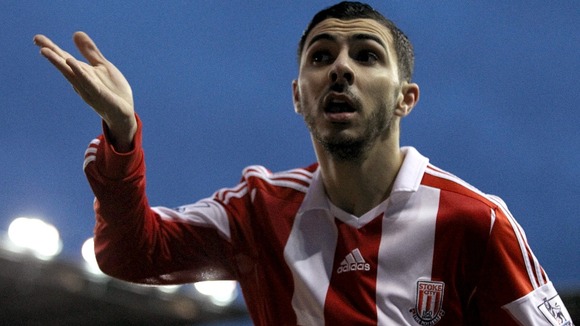 Stoke have entered tentative talks with Liverpool over the permanent signing of winger Oussama Assaidi.
Potters boss Mark Hughes was keen to stress the dialogue is at a very early stage but he is hopeful of keeping the Moroccan at the Britannia Stadium after a successful season-long loan.
Assaidi has scored four goals in 24 appearances this season, and it would have been more had he not missed two months with a knee ligament injury.
The 25-year-old joined Liverpool in the summer of 2012 from Dutch club Heerenveen and made 12 appearances for the Reds last season.
Hughes said: "We like Ossie and if we could come to an arrangement with Liverpool we would like to bring him here.
"He's a valuable player and I think Liverpool recognise that. I think there's been tentative enquiries but nothing concrete yet.
"He's done really well here. It's certainly helped him and Ossie's certainly helped us.
"He's got good friends here. He's got a good relationship with Marko Arnautovic - they make a nice couple! Those things are important to players. If they're happy in an environment then that can help if you're trying to bring them to a club."
Assaidi is Stoke's only doubt for Saturday's clash with Fulham after taking a bang to his knee in training while captain Ryan Shawcross sits out the match through suspension.
The defender had played every minute of every Premier League this season until he was shown a red card against Tottenham last weekend.
Shawcross is likely to be replaced by Spaniard Marc Muniesa, who deputised for the final 38 minutes against Spurs.
Fulham will arrive at the Britannia Stadium in desperate need of points and defeat on Saturday would relegate Hughes' former club if Sunderland win at Manchester United.
The Welshman insists that will not be on his mind, saying: "We want to get another three points.
"We were disappointed last week because we merited more than we got.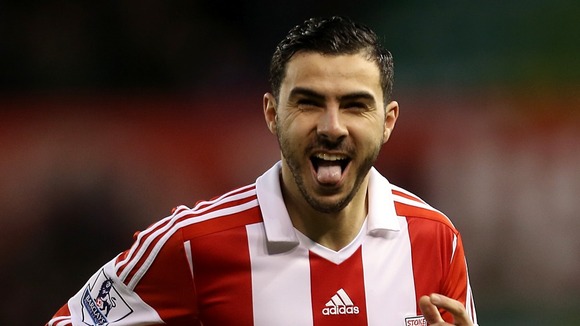 "We've got an opportunity against Fulham to match our biggest ever points total in the Premier League. That's our motivation, it's not about beating a team and making them go out of the league.
"It's about us doing out business and Fulham have to do theirs."
Hughes spent a season in charge of the Cottagers in 2010-11 but it came to an acrimonious end when he resigned.
Then owner Mohamed Al-Fayed was highly critical of Hughes, and the former striker accepts he may have walked out too soon.
Hughes said: "At the time I just felt I couldn't commit to a further three years.
"There was going to be a change of ownership, which has taken place now, and I was aware of that. That affected my position at Manchester City so I didn't really want to go through that situation again.
"I felt it was a team that was ageing and it would need a lot of investment, and I wasn't sure that was going to be forthcoming. As it was, I probably got that wrong, but hindsight's a wonderful thing.
"I've got a lot of time for Fulham. It's a good club, we had a good season, got to eighth in the Premier League. I just felt it was better for both parties to have a parting of the ways.
"You look back and think I probably did it too soon. I've got no grudge against Fulham because there's a lot of good people there. I wish them well, after the weekend."
Hughes, meanwhile, must weigh up whether to give Matthew Etherington a final appearance at the Britannia Stadium.
The winger will not be offered a new contract when his current one expires this summer, bringing his five-and-a-half-year spell to an end.
Etherington has been badly affected by back problems over the past couple of seasons and has made only 10 appearances this campaign.
Hughes said: "I'm conscious of the fact Matty's been here a long time and he's played a big part in the success of Stoke in the Premier League. If it's possible to acknowledge that then we'll try to do it, but not as a compromise to what we're trying to do."