Arsenal manager Wenger: Playing style is a long-term choice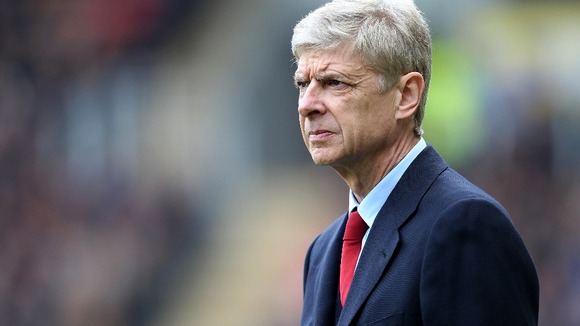 Manager Arsene Wenger maintains he will continue to be faithful to Arsenal's style of play rather than adjusting tactics as a means to an end.
Chelsea boss Jose Mourinho has seen the set-up of his team come in for scrutiny this season, with the methods deployed to produce impressive wins at Barclays Premier League title rivals Manchester City and then last weekend Liverpool hardly catching on the eye, if effective come full-time.
Wenger, though, has never been one to "park the bus" and is not about to start.
"The system of the team is to adapt to the quality of the players because we have so many offensive players. We just play to our strengths and it doesn't always work unfortunately," said Wenger, whose side cemented their place in the top four ahead of Sunday's clash with West Brom after Everton suffered a 3-2 defeat to Manchester City on Saturday.
"You have to go for a style and sometimes punctually you can change your style.
"The regret is that defensively we have not been strong enough in these games (against the top three)."
Wenger continued: "A style is a long-term plan.
"On the short term you can always change of course because it is all dictated by the confidence of the team and the confidence of the team is dictated by the results.
"You cannot swim against the stream, and sometimes the team needs to be reassured by being a bit less ambitious, a bit less offensive then you have to go for it because it is part of a reassurance process."
It has been suggested that with one eye on the FA Cup final, Arsenal could rest several key men with fourth place already secure ahead of the final Premier League match at Norwich, who are fighting relegation.
Wenger, though, insisted that is not on the agenda.
"Our target is to make maximum points until the rest of the season. I will absolutely try to achieve that," he said.
"As well as Arsenal Football Club we have a responsibility to be fair - even if it goes well on Sunday."
Wenger will be on the market for some offensive cover in the summer to provide back-up for Olivier Giroud, the France international having to lead the Arsenal attack single handed for most of the season.
"To bring one more offensive player in, yes, who can play in different offensive positions," he said.
"We have to see, because what you want is not to buy just to buy.
"It is one who can play with Giroud as well because (Mesut) Ozil was out, (Lukas) Podolski was out.
"But at the moment I cannot answer that question because I don't really know who will be on the market."