Man City manager Manuel Pellegrini vows to start working towards next season on Tuesday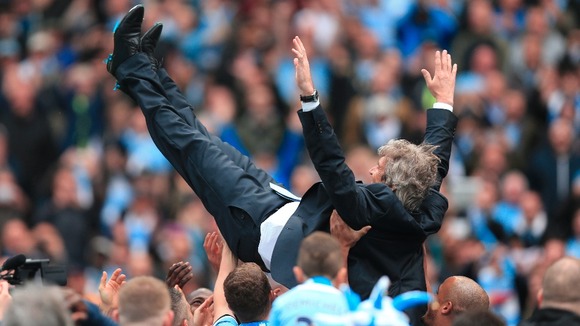 Manuel Pellegrini insists he will start work on Tuesday to ensure that Man City can retain their Premier League crown.
A comfortable 2-0 win over West Ham saw City triumph by two points over Liverpool in the title race, while they scored a record 156 goals in all competitions this season.
City's total of 102 Premier League goals was one short of the league record, but the 156 tally is nine more than the 147 Chelsea managed last season.
Pellegrini, who has become the first non-European coach to win the English top flight, said the success felt "very special" but that after the victory parade on Monday, work would start for next season.
He said: "I think it's very important to celebrate and then on Tuesday start working for next season.
"We are going to do a balance of the whole year and the positive things and negative things and way we can improve our squad.
"It has been a beautiful season but you always need to continue winning and improving, and we are going to start working as soon as possible to be the strongest team next year."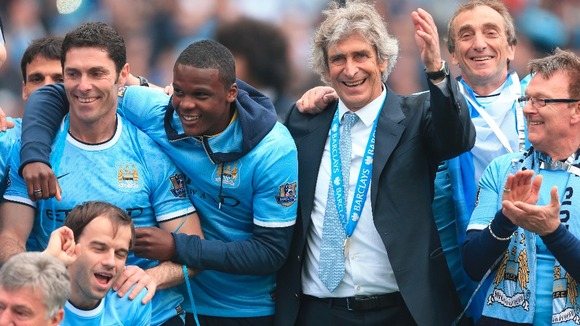 The team's style under Pellegrini was in stark contrast to the often-negative tactics under predecessor Roberto Mancini - and the Chilean said he had inherited a disunited squad.
"It was my first season in the Premier League and I had to change a lot of things," he said.
"The most important thing was we changed absolutely the way this team play. I am not criticising other styles or comparing, I like to play one way and for me it was very important to give the reasons and to have the trust of the players to change the way they played before.
"When I arrived at this club maybe the relations between the squad were not in the best moment so I think it was very important to have calm and try to convince all of them how we can play and how was it was important to be very close all of us - managers, players and fans to try to win a very difficult title.
"I think the way we played is as important as winning the title, the way we did it with the players and the fans enjoying it.
"We have players to play in counter-attack but for me, to win titles just in that way, I will not be happy. We won with 102 goals, and with the record of goals in all competitions in the history here in England it is the way the team must play with the quality of players we have.
"It has been a brilliant season and I would say of all the sides we kept going longest in all four competitions."