Kompany promises more Man City trophies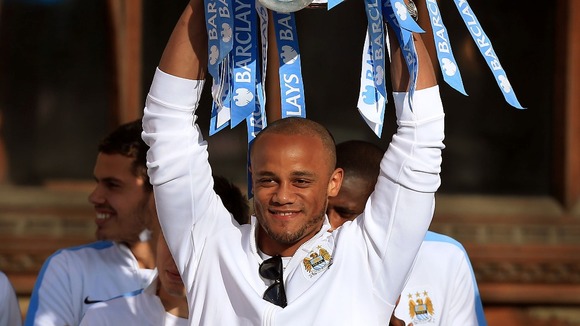 Captain Vincent Kompany promised supporters more silverware as Manchester City took to the streets to parade the Barclays Premier League trophy and Capital One Cup.
Thousands of supporters filled Manchester's Albert Square and then lined surrounding streets as the team began an open-top bus tour from outside the town hall.
Fans relived City's season of glory, which was completed on Sunday as the side beat West Ham to clinch the title, thanks to big-screen replays before players addressed the crowd and then boarded the bus.
Kompany, who scored the second goal in the 2-0 win over the Hammers, said: "This is a team that is growing and we have done it in style.
"Everyone keeps saying, 'They have won the league and they have done it in style'.
"That is what I like about it. That is what I want us to do again in future, keep winning in style."
Asked by the event compere if more trophies would follow, the influential defender added: "Has to be more, always more."
City's title hopes took a knock last month as they lost at rivals Liverpool and were then held to a draw by Sunderland.
Their fate fell out of their own hands but they seized on a slip-up by Liverpool to finish strongly and supplant their rivals Manchester United as champions for the second time in three seasons.
Kompany said: "We never gave up, we always believe.
"Together we did it, we knew we could, and until the end we fought and we brought the Premier League back to the city, and in the colours, it should always be."
After completing the celebrations, the team were due to fly out to Abu Dhabi, homeland of club owner Sheikh Mansour, for a short post-season tour.