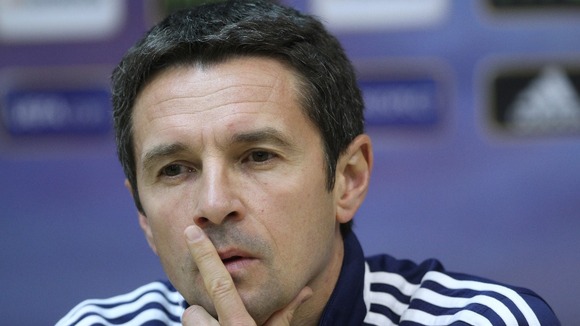 Lyon coach Remi Garde will not renew his contract when it expires next month.
The 48-year-old, who took charge of the club in 2011, says he "needs a break" from football and has no intention of taking another job before the start of next season.
The announcement follows weeks of speculation over the future of the former Lyon and France midfielder, who has guided the club to fifth place in Ligue 1 this season and the quarter-finals of the Europa League.
He was offered a new deal by club president Jean-Michel Aulas but felt unable to accept due to "family and personal reasons".
"I put an end to the suspense, which was long and complicated to manage," Garde told a press conference on Tuesday morning.
"I have not responded positively to the request of the president to extend for next season. I feel the need to take a break.
"I want to thank the president for trusting me here for three years. I thank him for our relationship."
Garde met with his squad on Tuesday to confirm the news that had long been expected, with a section of the club's fans unfurling a banner thanking the coach for his work during last weekend's match with Lorient.
"I want to thank my players for the last three years, those who believed in my work, who knew we could do something despite difficulties," he added.
"And a final thank you to the fans, without whom a club would be nothing. I did not expect such a tribute last Saturday."
Aulas, who hoped Garde would be the man to return the club to something approaching the glories that earned them seven consecutive Ligue 1 crowns between 2002 and 2008, added: "The decisions were taken yesterday evening.
"Remi Garde has decided not to continue the adventure, terminate his contract, which was due to expire in June.
"He made this choice for family and personal reasons. This does not affect the development of the project. His decision is not related to the mode of operation or lack of ambition of the club."
Garde led Lyon to the Coupe de France title in 2012 and a place in the Champions League last term, but has been unable to build on that this season, with victory needed in Saturday's final match at Nice to be certain of shot at a place in the Europa League.
Guingamp coach Jocelyn Gourvennec, fresh from victory in the Coupe de France final, has quickly been linked with Lyon, as have Sochaux's Herve Renard and Reims boss Hubert Fournier.