Inter thank Cambiasso, Samuel and Milito for services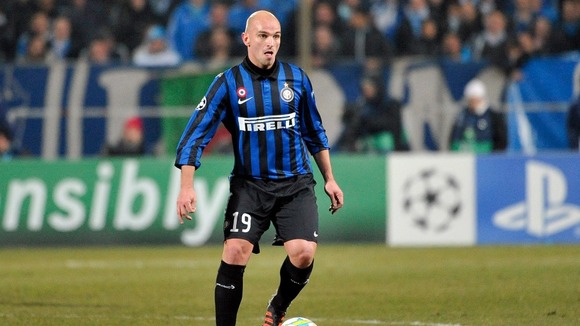 Inter Milan have thanked departing Walter Samuel, Esteban Cambiasso and Diego Milito for their services as the Argentinian trio prepare to head to pastures new.
The three veteran players, who formed the backbone of Inter's 2010 treble (Champions League, Serie A and Copppa Italia) winning side, become free agents this summer.
Inter paid tribute to the South American players by posting photos, videos and messages to commemorate their time at the club.
A statement from Inter read: "Inter salutes the great Argentinian defender Samuel after nine seasons with the Nerazzurri.
"So many joys and successes achieved together.
"At Inter we salute the Argentine striker Milito who made history with us after five fantastic seasons.
"Thank you, Cambiasso the extraordinary leader.
"At Inter we salute the Argentinian midfielder, who spent 10 seasons making history while wearing the blue and black."
Milito, 34, has endured an injury-plagued season and is set to re-join Argentinian side Racing club where his career started.
The 36-year-old Samuel has confirmed his wish to continue playing for another season before retiring from football.
He is a reported target of Racing club.
Cambiasso, meanwhile, has been strongly linked with a move to Major League soccer.