Real Madrid winger Bale: Ronaldo has got it all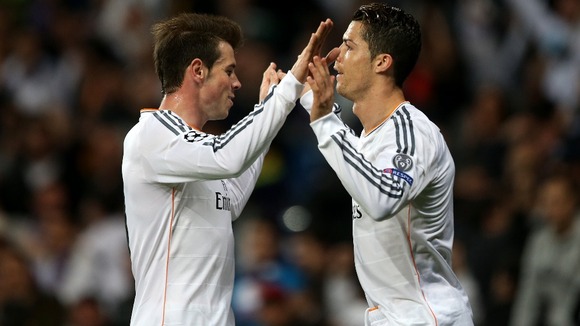 Real Madrid stars Gareth Bale and Luka Modric have hailed the club's No.7 Cristiano Ronaldo ahead of the Champions League Final.
Speaking to ITV's Gabriel Clarke, the former Spurs duo will line-up alongside the Portuguese forward on Saturday night when they face city rivals Atletico Madrid in Lisbon.
Asked about what makes Ronaldo special, Bale said: "Just the confidence he has on the pitch to do things that other players can't do.
"He is an all round player, I don't think there is one thing he hasn't got.
"You've seen year on year what he is capable of and the same again this season," Bale explained.
Croatian midfielder Luka Modric also believes Ronaldo is the complete player.
"He has everything - skills power and everything but I see now why he is the best player in the world because he is working so hard before after training – even at even at home he is telling me – and that is why he is the best," Modric told Clarke.
If Real Madrid do succeed on Saturday, it will be their tenth European Cup and first since 2002.
They will need an in-form Ronaldo – who has struggled for fitness in recent week – to be at the top of his game.
The Portuguese forward has netted 54 goals in just 44 appearances this season, proving his importance to the side, and assistant manager Paul Clement has guaranteed that Ronaldo will play.
"Yes, he'll be fit! It's vita; that he is available for this game and I don't think there is any chance in the world that he would miss this game."