Liverpool hold 'productive' Suarez talks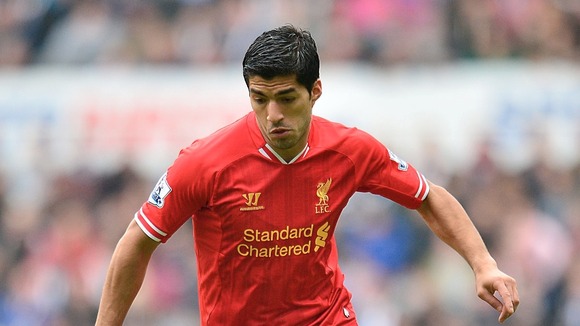 Liverpool will have further talks with Barcelona over the transfer of Luis Suarez after a productive initial meeting.
The Reds were adamant before negotiations began that they would not sell the Uruguay international for less than the value of his confidential buy-out clause, believed to be between £70m and £80m.
Opening dialogue appears to have been positive and it is seen as a significant step forward with the club confident a deal can be done in line with their valuation.
"The talks were productive, with sensible expectations on both sides," an Anfield source told Press Association Sport.
"Further talks and discussions will take place in due course. Nothing is finalised as of now."
Barcelona have the option of offering Chile forward Alexis Sanchez as a makeweight in negotiations and it is understood discussions are taking place considering both options: a straight money deal and also a player-plus-cash alternative.
The latter would seem more likely but that depends on Sanchez, with the suggestion in Spain he is not that keen on a move to England.
Suarez is currently banned for four months for biting Italy's Giorgio Chiellini at the World Cup.
However, following the 27-year-old striker's apology - which Barca are suspected to have had a major influence in procuring - the Spaniards have stepped up the charm offensive as they began to lay the foundations for a move.
On Tuesday sporting director Andoni Zubizarreta spoke in complimentary tones, suggesting "he has the necessary quality to play for Barca", and the club then followed that up with a request for a meeting with Liverpool chief executive Ian Ayre.
While that was taking place, Barcelona president Josep Maria Bartomeu dropped more hints that they wanted to make the Uruguayan their major summer signing.
"I announced months ago that the team would undergo a deep renovation but we cannot reveal details because we don't want to give clues away to any of our rivals," Bartomeu said.
"Our representatives are constantly travelling to other countries because of potential signings.
"Suarez is a Liverpool player so I can't talk about him, he belongs to another team, a rival team. But we are all football men, and saying sorry is honourable, it helps the competition.
"He did something that wasn't right, so it's the responsibility of everyone in football, be it Liverpool or anywhere else, to remember that he has said sorry.
"Admitting you have done something wrong is very important. Luis has apologised and that is honourable, he's taken a step towards rehabilitating, the football world should support him and help him.
"As a football fan I hope he can turn a corner."
Suarez's suspension from all football-related activities means he would not make a debut for Barcelona until the end of October and it was expected they would use that as a negotiating tool, but with Liverpool insistently sticking to the high-value buy-out clause inserted in Suarez's new £200,000-a-week contract he signed in December it appears the Catalans have little room for manoeuvre.
Last summer Arsenal failed in their attempts to sign Suarez after a bid of £40,000,001 was made in the mistaken assumption that would trigger his release when it actually only entitled them to begin negotiations.
Since then Liverpool have moved to make Suarez's contract situation more definitive in terms of the price of his release.