Five reasons Manchester United will qualify for the Champions League under Louis van Gaal
by Robbie Anderson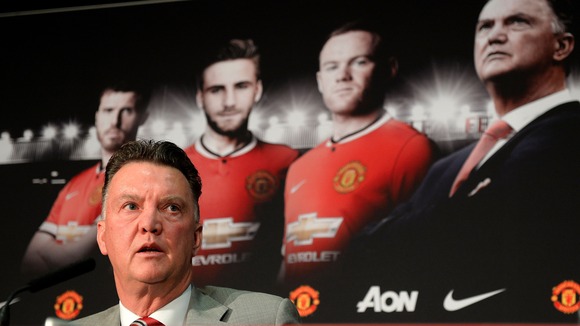 After a miserable season led to a seventh placed finish in the league, Manchester United won't be playing Champions League football for the first time since 1995/96.
Here, we examine five reasons why the club's fans are increasingly confident that new manager Louis van Gaal will lead them back into the Champions League.
Confidence
It was hardly surprising that so many stars at Old Trafford played within themselves under David Moyes, after he admitted "the blood drained from my face" when Sir Alex Ferguson first approached him about taking over. If Moyes didn't have much belief in himself, how could the players feel confident about their new manager? Louis Van Gaal's first few press conferences in charge, on the other hand, suggest he has taken to the hot seat like a natural:
"I've worked at the number one clubs in Spain, the Netherlands and Germany. Now I'm at Manchester United – number one in England," he boasted.
Van Gaal's confident approach certainly rubbed off on the Dutch players at the World Cup, where he maximised the limited capabilities of players like Dirk Kuyt and Ron Vlaar. The early signs suggest he is enjoying a similar effect on his players at Old Trafford, where during pre-season the previously marginalised Ashley Young and Tom Cleverley have featured with a renewed vigour that was sadly lacking throughout David Moyes' reign.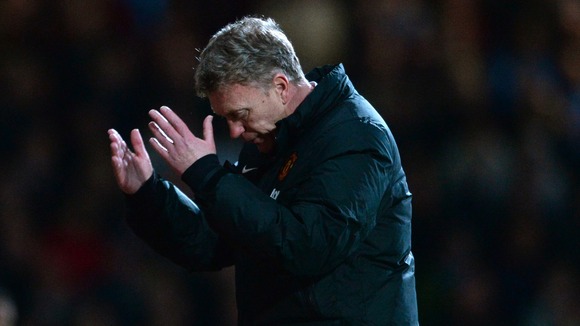 Decision Making
One of Sir Alex Ferguson's greatest strengths as United manager was his ability to act when the chips were down and the clock was ticking - the best example coming in the 1999 Champions League final, when his two substitutes clinched Europe's greatest prize during injury time.
Moyes seemed to lack this ability, looking increasingly bereft of ideas as the season progressed. Having overseen United's first loss at home to Newcastle in 41 years, he was pressed on why he hadn't substituted a clearly unfit Robin van Persie:
"People would say 'What are you doing? You are 1-0 down and you're taking off your top goalscorer. I think that answers why I left him on," he argued.
Louis van Gaal, by contrast, withdrew Robin van Persie when his Netherlands side desperately sought an equaliser in their last 16 clash against Mexico at the World Cup. In a move that many managers would have baulked at, misfiring van Persie was replaced with a man whose last international goal came against minnows Andorra in October 2012. Substitute Huntelaar nonetheless went on to assist Sneijder's equaliser before slotting home a penalty to win the game. Van Gaal's decision was fully vindicated.
In the next round, he orchestrated another inspired change when Tim Krul became the unlikely hero, thrown into the deep-end for a penalty shootout against Costa Rica. At the top level, the ability to make difficult decisions often proves the difference between success and failure, and pleasingly for United fans, Van Gaal isn't afraid to act when required.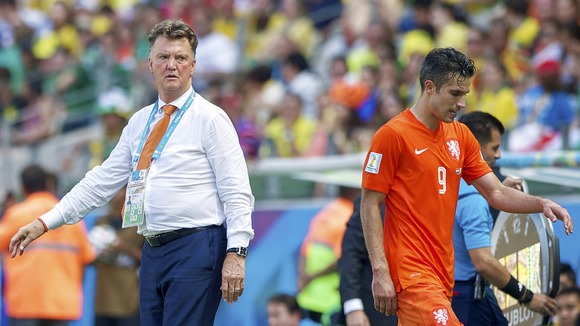 Tactical Acumen
United's tactical limitations under Moyes were evident more so than ever at home to bottom-placed Fulham in February. Despite recording 72% possession, the Red Devils rarely troubled their opponents, and the 81 crosses drilled into Fulham's penalty area were defended with relative ease. Dan Burn, the 22 year-old 6 ft 7 in centre-back who cleared many of those speculative crosses away described the experience as "like being back in the conference".
If Moyes demonstrated a lack of tactical flexibility, the same cannot be levelled at his successor. Many predicted that Van Gaal, who is synonymous with the 4-3-3 formation, would struggle when a knee injury ruled midfield lynchpin Kevin Strootman out of the Netherlands squad for the World Cup.
Instead, Van Gaal decided to use the remaining players at his disposal within a 5-3-2 formation, deploying utility men Dirk Kuyt and Daley Blind as wing backs to excellent effect. The system has since been adopted by United in pre-season and not only has the fast-paced, short-passing style of play proved easy on the eye, United also lifted the Guinness International Champions Cup against tough opposition, beating European Champions Real Madrid and arch-rivals Liverpool.
A Happy Strike Partnership
Keeping both star strikers happy is something Sir Alex Ferguson and David Moyes were unable to achieve in recent years. Wayne Rooney became disgruntled about being shifted around the pitch by Ferguson and was close to leaving in 2013, while Van Persie seemed to revert from the Premier League's most dangerous striker to an inconsistent and injury-plagued one under Moyes.
Louis van Gaal may have found an answer to this problem, with his 5-3-2 formation allowing both forwards to operate in their favoured and most effective positions. Van Persie's strong relationship with the manager has long been evident, while the positive noises Rooney has made in pre-season suggest he is also excited about working under Van Gaal.
United will be confident that a pair of happy strikers can translate into a much improved goals-per-game ratio of 1.68 from last season, their worst in 19 years.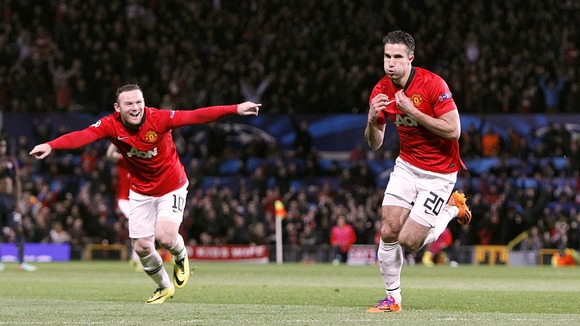 Fixture List
United have often recovered from a slow start in the Premier League, but this season there is an opportunity to build up early momentum with a series of favourable fixtures leading up to the meeting with Everton in October. By then, last season's top four will already have played two rounds of Champions League fixtures, with United having the luxury of focusing purely on league matches.
Coming up against Chelsea, Liverpool and Manchester City in his first five games was always going to prove difficult for David Moyes, who was also sidetracked by his first campaign in the Champions League group stages. Van Gaal has been afforded more breathing space early on, and much like Liverpool last season, United are strong enough to demonstrate more consistency in the league without the distraction of European football.
With the possibility of more new faces, a generous early fixture list and - most importantly - a confident and tactically astute manager, United fans can look forward to the new season with optimism about achieving Champions League qualification once again.
Do you agree? Let us know on Twitter @ITVFootball