Where does Angel Di Maria start for Man Utd?
by Alexander Netherton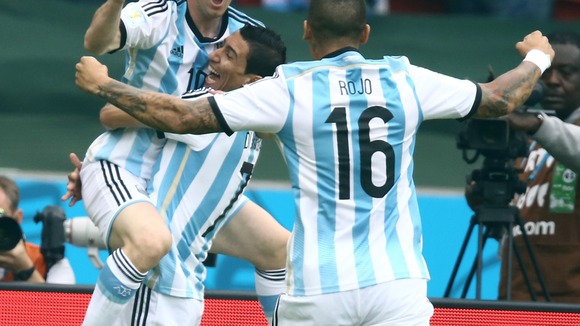 Angel Di Maria looks set to join Manchester United this week, but it's not yet clear how he will fit in Louis van Gaal's plans. He does, however, offer plenty that United currently lack.
As has been said in the approximately seven million articles written in anticipation of his transfer, Di Maria flourished on the left of a midfield three for Real Madrid, watching Gareth Bale, Cristiano Ronaldo and Karim Benzema ahead of him. That did not stop him clearly having his best season for the club, or from contributing to Real's Champions League success, as he adapted to a relatively defensive position.
But he's leaving Real Madrid, so now the most important thing is what he offers Manchester United. Wherever he plays, the essential quality he has is pace. Against Swansea City, United struggled to exploit gaps swiftly or move quickly enough to create them. With any side including Juan Mata, Wayne Rooney and Darren Fletcher in their front six, it is vital that there are players ahead or beside them capable of running through a side. Javier Hernandez was not born offside, but he has bought a house there. Ander Herrera currently plays too deep to do the same consistently, and Antonio Valencia is now too blunted to make the most of his pace. Robin van Persie will return to the side soon, but it's just his thinking which is quick.
Di Maria, however, has the pace to exploit counter-attacks, and also to make the most of Mata's accuracy of passing. One of the reasons for Mata's disappointing United career has been, in addition to being managed by David Moyes, having nobody with pace around him. Mata might move the ball swiftly, but he doesn't carry it at speed. No longer will Wayne Rooney have to idle on the ball and spread play with a looping ball right as other players chug unimaginatively around him - in theory Di Maria should offer an outlet down the left wing, and ideally an inspired Adnan Januzaj will do the same on the right. If Michael Carrick returns to the side and to form, then Di Maria allows Carrick the chance to recreate his 2006/7 approach of exploiting United's ability on the wings.
This is true regardless of whether he starts on the left of a midfield three, or as a winger in a 4-3-3, but there are qualities that will be magnified depending on which of these positions he takes up. In midfield, United will be able to rely on a player with the energy to challenge the opposition for the ball, and chase the opposition's midfield runners - something that Darren Fletcher, Anderson and Michael Carrick have proved variously too lazy, too unperceptive, or too unfit to do so successfully. This will allow Ander Herrera to be free of the responsibility of being the only midfielder at the club with any real quality, and able to focus on defence or attack as necessary, rather than both out of necessity. This creativity and solidity should prevent Rooney from tracking back, which remains an obstacle to a fluid United side.
If he is to play on the wing in what is Louis van Gaal's traditionally favoured formation, 4-3-3, then he offers a number of advantages. Rooney can be dropped, allowing Di Maria to offer superior service, first touch, passing and intelligence to the attack, and giving room for Juan Mata or Adnan Januzaj on the right wing, who, similarly, are superior options to offer support to an attack than Rooney. Given Van Persie and Rooney are sometimes prone to injury, it also allows the chance for United to remain threatening in attack with only one fit senior striker. At a push, Di Maria also has the skills to be a support striker if Van Gaal decides to play two up front, or as a wing-back, a move which would be a startling waste of his talents.
It would be unwise, though, to put too much expectation on a revolution at Manchester United simply because of this signing. There is no doubt that Di Maria is excellent and offers a lot of what the side needs, but problems remain. Just as Mata is an impressive player, his arrival did not cancel out the defensive weaknesses of the side, which have worsened. The same goes for Di Maria. Although he offers pace, much of the rest of the side does not. The signing still means that United have, if you include Di Maria and Mata, just three central midfielders worth putting on the pitch. Marcos Rojo remains the only new, fit defender at the club, and does not yet have a work permit, and the other central defenders lack consistency. Di Maria is a wonderful signing, but he can only be part of a reversal of fortunes if Edward Woodward is capable of delivering more than him with just a week of the transfer window remaining.
You can find Alexander Netherton on Twitter at @lxndrnthrtn