I would take Leeds job again - Hockaday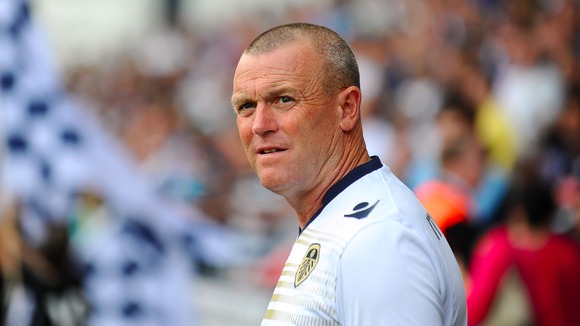 David Hockaday takes Leeds into the Capital One Cup tie against local rivals Bradford insisting he would have still have taken his head coach's job, even if he had have known the rough ride he would get.
The 56-year-old was appointed by owner Massimo Cellino to much derision from Leeds supporters in June and the catcalls have continued ever since, especially considering United have won just one of their four Championship games so far.
Hockaday's position has hardly been strengthened by Cellino's claims that he needs "babysitting" while on Sunday the Italian performed a public reversal after initially deciding to sack the former Forest Green manager.
As such, Hockaday appears to be on what is effectively a game-by-game contract, looking another bad result away from the exit door.
A banana-skin clash at Valley Parade carries a serious threat of that but Hockaday is adamant he would have done nothing different.
"Of course I would," he said when asked if he would have taken the job had he have known he would be under such scrutiny so early on.
"How many people would love to be in my position - genuinely? Some people enjoy pressure, maybe I'm a masochist. But whatever it is, I enjoy it.
"I am proud to have the reins, I am comfortable with the reins. I am comfortable in the belief I know I can get even more out of these players."
Bradford chairman Julian Rhodes believes a once\-in\-a\-lifetime win over Leeds would even top the great Valley Parade cup nights against Arsenal and Aston Villa.
The Bantams beat the Premier League sides en route to reaching the final in 2103 but Rhodes thinks the prospect of defeating Leeds for only the third time in their history is more appealing.
Only one of those previous wins from 23 attempts came at Valley Parade - back in March 1932 when Jack Peart's team triumphed 4-1.
"In nearly 100 years of playing Leeds, we've beaten them twice. So we're literally talking about the chance of a lifetime to watch us hopefully win against Leeds," said Rhodes.
"I'm actually looking forward to this one more than the Villa and Arsenal games. Don't get me wrong, they were fantastic nights and ones that people will always remember. But this will be at least as good as those - if not better."