Videos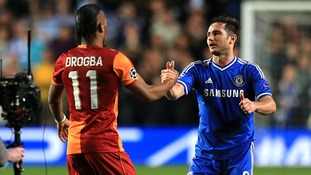 Frank Lampard is quietly confident Chelsea can clinch a hat-trick of European titles
Read the full story
Video: Didier Drogba hits own 'Legend' banner with terrible free-kick
If he meant it, well, what tremendous accuracy from distance!
Advertisement
Video: Gary Cahill doubles Chelsea's lead with close-range strike
The sort of can't-miss finishing opportunity that any defender would relish slamming home.
Video: Samuel Eto'o gives Chelsea an early lead
Anything you can do… African football legend Samuel Eto'o turned off The Didier Drogba Show by scoring a fine goal for Chelsea after just four minutes.
Back to top