Videos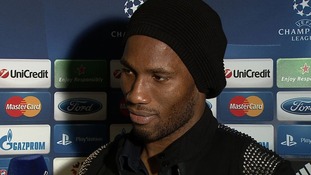 Ivorian says that Porto, Liverpool, Barcelona and Inter all won the Champions League after beating him - and tips Madrid to do so this year
Read the full story
Cristiano Ronaldo fires the ball in to finish the tie off in the final minute.
Advertisement
Didier Drogba does something brilliant.
Replay - Delightful touch and finish
Wesley Sneijder makes it 2-1 with some superb skill.
Emmanuel Eboue goes against kind and scores an absolute screamer.
Replay - Not a classic Ronaldo shot
The Real Madrid forward somehow misses from seven yards out.
Advertisement
Replay: Ronaldo gives Real the lead
Ronaldo, who else, gives Real Madrid a 4-0 aggregate lead. Huge huge task for the Turkish side now.
Gala have Mourinho-shaped mountain to climb
Real Madrid have a three-goal cushion to sit on for their trip into 'Hell' tonight. Comfortable? It should be, but you never know…
Watch Galatasaray v Real Madrid live on ITV and on our website tonight at 7.30pm.
Back to top