Videos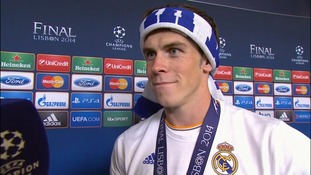 Champions League winner Gareth Bale hailed his team's character after Real Madrid were victorious in Lisbon
Read the full story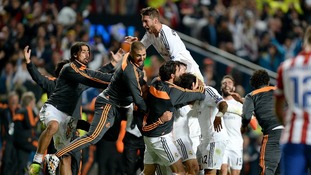 Gareth Bale finally helped Real Madrid fulfil the dream of 'La Decima', securing a memorable 10th Champions League triumph
Read the full story
Advertisement
Replay: Ronaldo finishes it off
Crisitano Ronaldo stepped up make it 4-1.
Marcelo ran through unchallenged to make it 3-1 to Real Madrid.
Replay: Bale gives Real the lead
Gareth Bale scored Real Madrid's vital second.
Replay: Ramos scores dramatic equaliser
Sergio Ramos jumps highest to make the scores level in injury-time.
Advertisement
Analysis: Keane and Dixon disagree over Coentrao aggression
It's a game of opinions, lads.
Replay: Diego Godin puts Atletico Madrid ahead after Casillas indecision
Very poor goalkeeping from Iker Casillas.
Champions League Archive: Gareth Bale scores hat-trick for Spurs in the San Siro
Fair to say that this stunning performance played a major role in Gareth Bale's mega-move to Real Madrid… It didn't do so much for Maicon's career.
Behind the scenes at Real Madrid
Back to top