Videos
Alonso: I want to stay at Real but nothing is clear
Midfielder Xabi Alonso tells ITV's Gabriel Clarke that he wants to stay at Real Madrid next season but admits that 'nothing is clear'.
The former Liverpool man also says that the Champions League semi-final defeat to Dortmund was 'hard to take' as they came within one goal of reaching Wembley.
Watch highlights: Real Madrid 2-0 Borussia Dortmund
Mats Hummels can't believe Dortmund are in the Champions League Final
Borussia Dortmund centre-back Mats Hummels spoke to ITV Football's Gabriel Clarke after playing a major part in his team's successful rearguard action in Madrid.
Advertisement
Replay: Ramos gives Real hope
Replay: Benzema breaks deadlock
Replay: Lopez keeps Madrid in the tie
Brilliant save but sub Kevin Grosskreutz should have done better.
Replay: Sergio Ramos versus Robert Lewandowski
Sergio Ramos getting stuck in on Robert Lewandowksi, but one game too late for Jose Mourinho's liking.
Advertisement
Replay: Coentrao booked for nasty foul on Lewandowski
Madrid wing-back Fabio Coentrao is the first name in Howard Webb's Book of Shame for this nasty over-the-top tackle on Robert Lewandowski. Might have been a red card.
Highlights of the first leg. Real Madrid require a minor miracle to turn around the 4-1 deficit, but with Ronaldo in their side, anything is possible.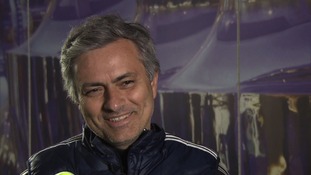 Real Madrid manager Jose Mourinho tells ITV's Gabriel Clarke that he knows what he wants to do next season
Read the full story
Back to top