Videos
Ramsey: We need one or two in
Arsenal's two-goal hero Aaron Ramsey says the club need one or two new players to allow them to compete on all fronts this season.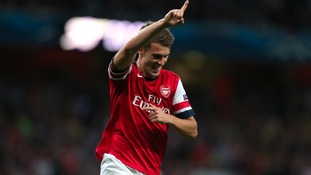 Arsenal secured a 16th successive campaign in the Champions League group stage with two strikes from Aaron Ramsey
Read the full story
Advertisement
Aaron Ramsey gets his second with a lovely finish.
You've embarrassed yourself there
Emmanuel Emenike with one of the worst dives of all time.
Wojciech Szczesny makes a delightful double save to keep Arsenal ahead.
Aaron Ramsey gets on the end of some good work from Theo Walcott to give Arsenal the lead on the night.
Advertisement
Back to top