Live updates
Full time
The match has reached full time.
Second half kick-off
The second half has started.
Advertisement
Half-time
The ref blows to signal half-time.
Goal
Filho Jorge Jorginho is shown a yellow card. A goal is scored by Iker Muniain. Dries Mertens joins the action as a substitute, replacing Lorenzo Insigne. A goal is scored by Gonzalo Higuain. Carlos Gurpegi is cautioned by the ref for dissent. Etxebarria Benat goes off and Mikel San Jose comes on. Mikel Balenziaga is cautioned by the ref for dissent. Miguel Michu is brought on as a substitute for Marek Hamsik. Gomez Ibai is brought on as a substitute for Markel Susaeta. Erik Moran on for Ander Iturraspe.
Kick-off
Blows his whistle to start the match.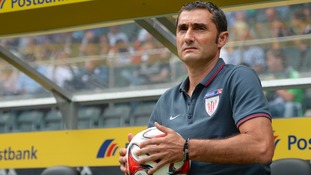 After fifteen years away from competing with Europe's footballing elite, Athletic Bilbao are closing on a return
Read the full story
Advertisement
Benitez wary of Athletic threat
Napoli coach Rafael Benitez has warned his side not to underestimate Athletic Bilbao when the two sides meet in Tuesday's Champions League play-off in Naples.
We will face a great team and the second leg will be in an incredible (San Mames) stadium. The (San Mames) crowd is like their 12th man.

Athletic's strongest weapon is the group, with players who have been together for many years and have the support of a city that never loses its passion.

I respect Athletic Bilbao a great deal, but I trust my Napoli.
– Napoli boss Rafael Benitez speaking to MARCA
Back to top