Videos
Tom Carroll reflects on Roman test
Bale bemoans Rome playing surface
Spurs winger Gareth Bale spoke to ITV Sport's Peter Drury after his side drew 0-0 at Lazio.
Advertisement
AVB praises Lloris and Carroll
Tottenham manager Andre Villas-Boas reserved special praise for goalkeeper Hugo Lloris and youngster Tom Carroll after a battling 0-0 draw – a "good point" – at Lazio in the UEFA Europa League.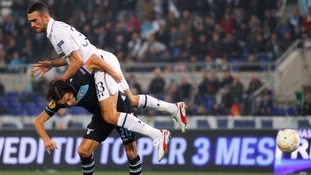 Spurs are one step closer to the knockout stages of the Europa League thanks mainly to a superb display from keeper Hugo Lloris
Read the full story
REPLAY: Lloris denies Lazio
Hugo Lloris reacts quickly to prevent Lazio from taking the lead in Rome.
Meanwhile in west London…
Advertisement
REPLAY: Mauri hits the bar
Stefano Mauri has his long-range shot tipped onto the bar by Hugo Lloris.
REPLAY: Bale has goal disallowed
Spurs winger Gareth Bale is unlucky as he has a perfectly good goal ruled out for offside.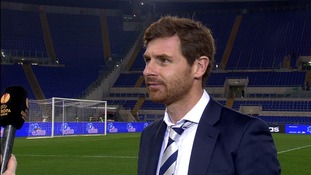 Tottenham manager Andre Villas-Boas admitted he was saddened by the brawl in Rome which left two of his side's fans seriously injured
Read the full story
Attack in Rome pub 'lasted 20 minutes'
The owner of the Drunken Ship pub in Rome, Marco Manzi, said there were around 30 Tottenham fans drinking quietly when a group of young men burst in throwing stones, waving clubs and metal rods. He says the attack lasted 20 minutes (Via ITV News)
Back to top