Videos
Benitez: Reina still one of the best
Napoli manager Rafa Benitez hailed goalkeeper Pepe Reina after their win over Swansea.
Swansea head coach Garry Monk told Jon Champion he was proud of his side after their defeat to Italian giants Napoli in the Europa League.
Advertisement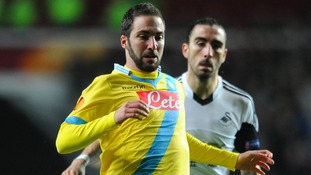 Swansea's Europa League adventure came to an end in Italy as they lost 3-1 to Napoli on Thursday
Read the full story
Replay: Inler ends the tie
Gokhan Inler finishes off the tie with a breakaway goal.
Replay: Higuain with a neat finish
Gonzalo Higuain gets a bit of luck, but finishes smartly.
Replay: Tiendalli goes down (easily)
Dwight Tiendalli tries to win his side a penalty. Was it a dive?
Advertisement
After a long spell on dominance, Jonathan De Guzman equalised for Swansea.
Replay: Insigne gives Napoli the lead
Lorenzo Insigne broke free of the Swansea, before dinking the ball over Michel Vorm.
Back to top