Videos
Sherwood: I want to win it
Spurs head coach Tim Sherwood says his aim is to now go on and win the Europa League, following their defeat of Dnipro at White Hart Lane.
Defoe aiming for Brazil still
Jermain Defoe told ITV that he still wants to be part of the England squad at the World Cup despite his imminent move to Toronto.
Advertisement
Adebayor: I was never worried
Spurs striker Emmanuel Adebayor says was confident his side would come back from being a goal down against Dnipro.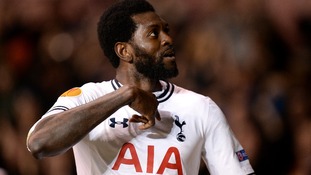 Two Emmanuel Adebayor goals and a Christian Eriksen free-kick saw Spurs come back from a goal down against Dnipro in the Europa League
Read the full story
Replay: Adebayor turns the tie
Emmanuel Adebayor put Spurs ahead in the tie with a superb finish.
Replay: Adebayor is the man for the big occasion
Emmanuel Adebayor gave it all he had to finish off Spurs' second.
Advertisement
The Ukrainian striker is sent off for his (weak) headbutt on Jan Vertonghen.
Replay: Eriksen gave Spurs hope
Christian Eriksen levelled things with a free-kick.
Roman Zozulya heads home a free-kick for Dnipro.
Back to top