Videos
Video: Parker and Bale content with advantage
Tottenham captain Scott Parker and Gareth Bale told Ned Boulting they're pleased to come out of a tough game against Lyon with a narrow win.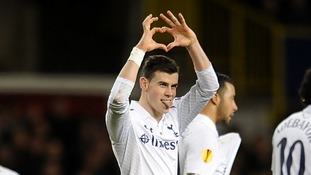 Gareth Bale scored two sensational free-kicks as Tottenham gained the advantage over Lyon with a thrilling last-gasp win
Read the full story
Advertisement
Replay: Bale's second astounding free-kick of the night
Gareth Bale scores with the last kick of the game to earn himself a stunning brace and Spurs a 2-1 win over Lyon.
Replay: Umtiti's 'one in a million' goal
Joey Barton described this goal as a 'one in a million' - and he's not wrong. Stunning goal from 19-year-old Samuel Umtiti.
Replay: Bale's 40-yard free-kick stuns Lyon
Gareth Bale does his best impression of Cristiano Ronaldo to score with a marvellous, swerving, dipping long-range free-kick.
Replay: Gareth Bale's miss of the season contender
The Spurs wing wizard will be wondering how he contrived to miss this one.
Advertisement
Back to top