Videos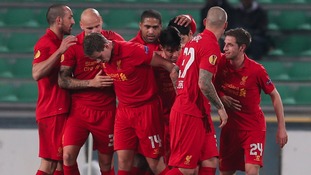 Liverpool have reached the knockout stages of the Europa League after beating Udinese 1-0 in their Group A clash in Italy
Read the full story
Advertisement
Replay: Padelli thwarts Suarez again
More excellent keeping by Udinese's No.1 after a superb run from Luis Suarez.
Replay: Padelli foils Suarez
Udinese's goalkeeper, Daniele Padelli, tips over an acrobatic close-range shot by Luis Suarez, just before the half-time whistle.
Replay: Henderson on target
Jordan Henderson gives Liverpool the lead in Italy.
Advertisement
We just got our first look of the evening at Udinese winger Pablo Armero, who's become a bit of a cult hero at ITV Towers for this bit of brilliance earlier in the season:
Watch out for more of that today. We hope.
Last time Udinese met Liverpool, in early October, Stewart Downing was taken down by a challenge better-suited to the rugby field:
Back to top